Tech companies in Europe strengthen their position in the software development industry. They demonstrate faster growth than the rest of the organizations in the European economy. What contributes to this development process? Common government regulation of business, business-friendly management, and efficient resource allocation. More and more offices are establishing in European countries. In Europe, software companies are increasingly implementing entrepreneur-friendly regulations. This allows getting access to vast talent pools available in Eastern and Central Europe.
The number of top software companies in Europe looks beyond the traditional ways of doing business. Most of the biggest software companies in Europe expand the technological capacity at the cost of outsourcing or outstaffing services.
The List of European Based Companies
To develop software products of high quality or come up with effective tech solutions, you're likely to look into the IT world. A huge list of companies in Europe is available to find your perfect match. Below, you're given 5 names of companies in Europe to consider for reliable partnership on a going-forward basis.
Mangosoft


Services: Big data analytics, blockchain development, DevOps engineering, QA & testing
This is a Ukrainian software development company known for building a long-term partnership. 3+ years is an average period of a partnership with clients that compile the list of international companies in Europe. It may be both medium-sized businesses and large enterprises that seek professional help. The technological expertise of the Mangosoft's team includes Big Data, AI & machine learning, Blockchain, IoT, DevOps, and much more. It specializes in e-commerce, banking, real estate, gaming, and other industries applying the best practices. With the offices based in Ukraine and the USA, it manages to provide business-transforming software solutions worldwide. 5+ million of revenues the tech solutions let businesses increase their revenues.
Merixstudio


Services: web and app development for B2B/B2C Saas, product design, QA
Another software development company in Europe, Merixstudio is located in Poland with a full-stack team of experts developing software products. It is recognized for qualified support throughout the whole project development. Merixstudio's areas of special expertise are web applications and cross-platform mobile apps. The main focus is on development in the programming languages JavaScript, Python, and PHP. It covers project management, QA, and product design services. With the long-established experience since 1999, the team has been working with market leaders and promising startups. It offers B2B, B2C, SaaS solutions to meet the key clients' business objectives in different verticals.
Future Processing


Services: software development, cloud services, blockchain, AI & machine learning, IT security, consultancy
This is a software development company that was created in Poland. In 2017 one more office was registered in Ukraine. With 19+ years' experience in the industry, it manages to gather 800 specialists on board. They specialize in software engineering, DevOps, support and maintenance, etc. The key areas of the expertise cover specific technologies, including Java and .NET. Moreover, it holds an ISO 27001:2013 Certificate to meet Information Security Management standards. Using experience and technical expertise, the team of developers creates products and solutions for customers operating in different sectors around the world.
Intellectsoft
Services: enterprise software & mobile app development, digital transformation consultancy, UX/UI design, QA
Intellectsoft is placed among software development companies in Europe. It has been operating since 2007 across multiple offices in the USA, the UK, the Nordic region and Eastern Europe. With more than 10 years of experience, it provides engineering solutions for global and Fortune 500 companies. Most projects are built on the existing expertise of the staff at cloud computing, blockchain, IoT, AI & machine learning and Mixed Reality (AR, VR). Besides providing a variety of software engineering, it offers wide range of consultancy services to simplify digital transformation through careful planning and deep analysis of business operations.
Intellias


Services: custom product development, AI & Big Data, DevOps, IoT, SaaS development
This is one of the largest software companies in Europe located in Ukraine. In 2018, Intellias started to broaden its delivery footprint and increase service capabilities with new delivery centers in Central and Eastern Europe. Besides offices in Kyiv, Odesa, Lviv, Kharkiv, and Lviv, the company has a local presence in Germany (Berlin) and Poland (Krakow). With four offices and more than 1600 engineers, it focuses on core business objectives. Since 2002, the team has been offering custom software engineering services aimed at global businesses. The industry focus is made on automotive, real estate, transportation, and financial services. The expertise in particular domains allows developers to flexibly accomplish projects.
Tips to Hire the Best Software Development Company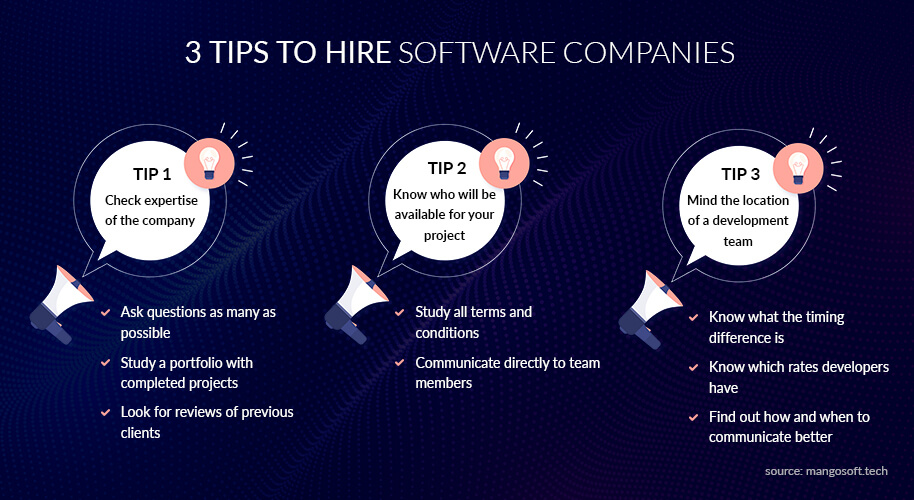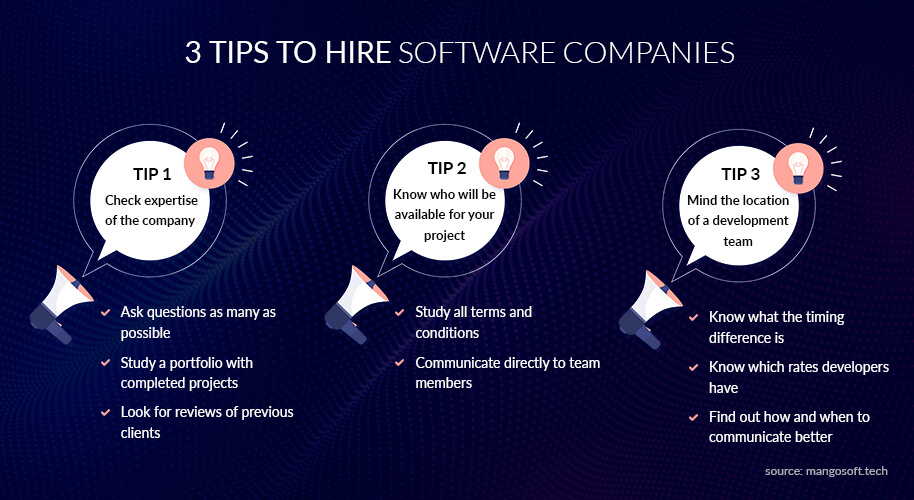 Mostly recognized companies are masters of their work in the field of software development services offering competitive solutions. Even if the list of top IT companies is available to you, don't forget to double-check everything before hiring. So, how to hire the best company for your project?
Tip 1. Check Expertise in Your Industry
The area of expertise needed for your project should be a key focus in the company you choose. Make sure if specialists have enough tech capacities to deliver top-notch solutions. How to check? Look at the portfolio with completed projects.
Tip 2. Find Out if There Are Available Resources for Your Project
After you are sure that the company quite fits your needs and requirements, pass on further discussion of all terms and conditions. Primarily, ask if there are all resources required to complete a project on time. It may concern both human and technical resources.
Tip 3. Mind the Location of the Company to Plan a Budget Properly
For what? It is necessary to know where a development company is located to avoid time zone diversity. For example, Ukraine is 7 hours ahead of Washington, DC, USA. It may affect your open communication. Also, it is one of the factors affecting the cost of developing software.
Wrapping Up about Tech Companies in Europe
Having compiled the list of software companies in Europe, we have gathered all the details to select the best companies for you. We analyzed a large number of IT vendors to determine if their European development centers have enough capabilities to provide first-class solutions to their customers. Be sure you'll cooperate with effective custom software development companies to develop your business!
For more detailed information, contact us! Our software experts will answer all your questions concerning European technology corporation.
Subscribe
Enter your email address below to subscribe to our newsletter