Today, IT outsourcing in Ukraine is growing rapidly at an average rate of 25% per year. This means that more and more development projects are trusted to Ukrainian software companies. The convenient location of the country, visa-free travels, certified tech specialists living there, favorable tax conditions in the IT services  – these are just a few of the factors that make Ukraine attractive for foreign investment. World ranking plays an important role as well. The International Association of Outsourcing Professionals (IAOP) has announced the 2022 Global Outsourcing 100 – a list of the world's best outsourcing service providers. And know what? In 2022, this list includes 20+ top Ukrainian IT companies.
Let's find out which IT outsourcing company in Ukraine is worth the attention and money, and most importantly why. In this article, we offer a detailed overview of top IT outsourcing companies in Ukraine with all the details – what types of services are available, which area of expertise is prevailing, how many specialists work in the company, how long it has been on the market and what projects it deals with most often and which ones are the latest.
IT Outsourcing in Ukraine
– Fast Facts & Advantages
IT outsourcing in Ukraine is increasingly relevant for companies around the world – dedicated teams of developers, solid technical expertise proven by real case studies, a broad range of digital solutions, years-long experience in world-famous projects. Although the quality of development services and the experience of Ukrainian specialists is not better than in the United States or European countries, the cost of projects is relatively lower than there.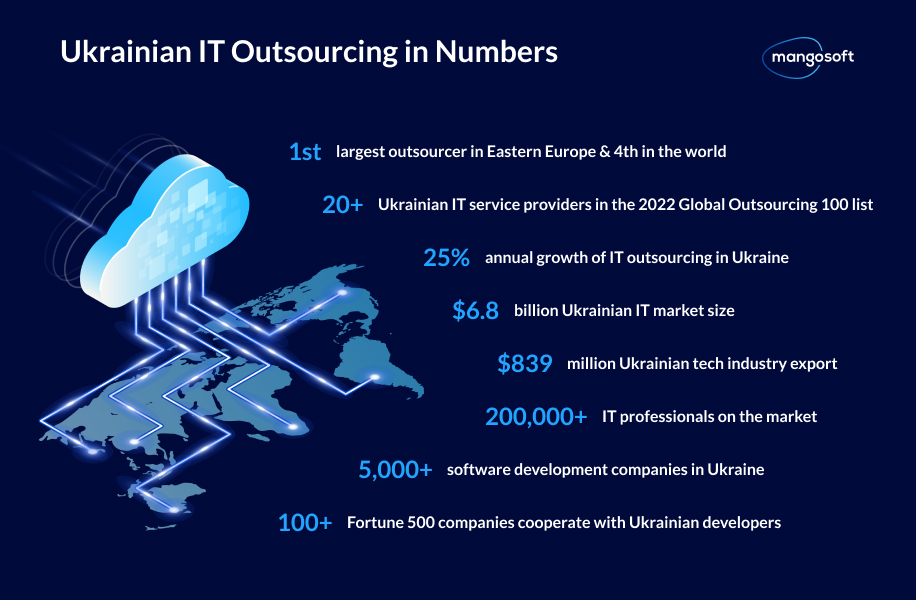 Outsourcing Journal ranks Ukraine as the 1st largest outsourcer in Eastern Europe. The country has a fairly competitive market and has every chance of making itself known not only in Eastern Europe. Currently, Ukraine is the the no. 4 country with the world's best developers. One in five Fortune 500 companies relied on Ukraine for software development in 2022. According to Schneider Group, an international advisory company, the country became the 1st IT outsourcing and software development center in the CES region. Simple tax regulations, strong technical background, and a high number of developers are the factors that explain why Ukraine is popular among foreign companies for office relocation and outsourcing. 
According to the Ukrainian IT Report, Ukraine's IT industry grew by 36% in 2021, from $5 billion to $6.8 billion in exports. AmCham says 96% of companies plan to continue operating in Ukraine in 2023. In addition, 85-95% of IT professionals were able to return to their jobs despite the war. Compared to 2021, the volume of software services in Ukraine for the nine months of 2022 increased by 13%, and exports by 23%, the Ministry of Economy reported.
Top Ukrainian IT Companies
: Full Reviews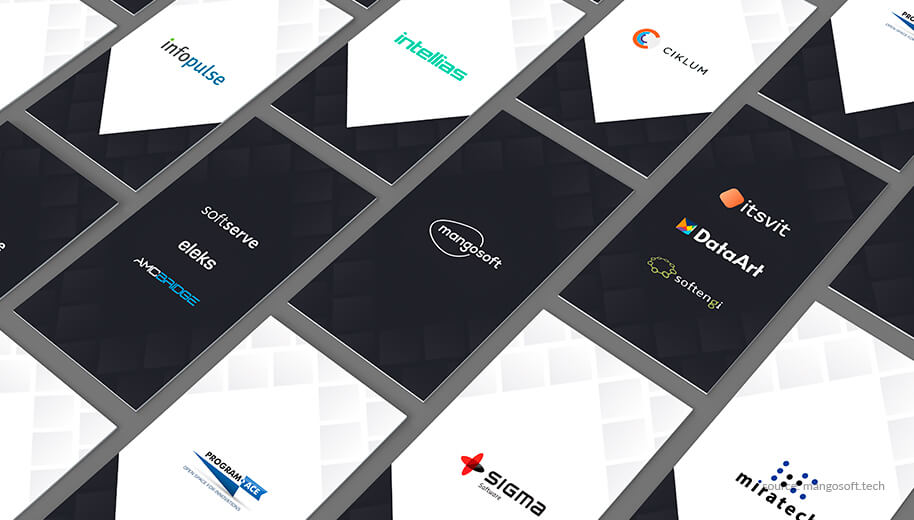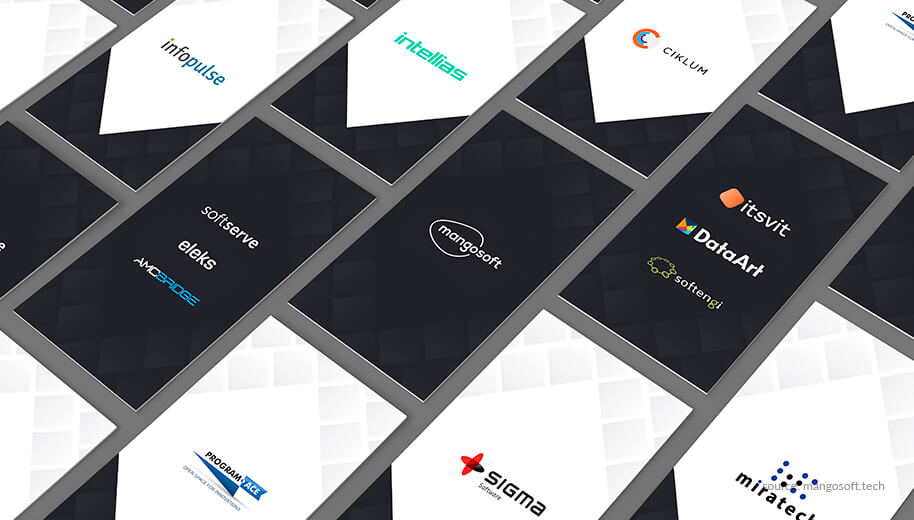 In Ukraine, there are more than 5,000 software development companies. Thus, it can be quite difficult to immediately make a good choice from a list. In this part, we will help you find out which IT outsourcing companies are the best in Ukraine and why you should rely on each individual option.
As a basis for our list, we took such criteria as:
Years in business,

Team size,

Market position,

Tech expertise, 

Industry specialization, 

Qualification levels of developers,

Portfolio with case studies, 
In addition, we started the list of Ukrainian software companies in ascending order, that is, small and medium companies go first, then large companies with more than 1,000 specialists on board. Someone prefers to work with large companies, and someone intends to find a reliable service provider with a small flexible team. 
Well, let's begin our journey through the leading Ukrainian IT companies with a detailed overview of each of them.
Mangosoft


This is a software engineering company with 6+ years of IT outsourcing experience and 120+ experts on board. 70% of the staff are Middle and Senior specialists. The technological expertise is focused on Big Data, AI & ML, VR & AR, blockchain, and DevOps engineering. With a wide tech stack in Java, PHP, Python, and the best industry practices, the team managed to build a good reputation on the market. Specializing in e-commerce, fintech development, and other areas, it has delivered 250+ projects in 30+ countries – the USA, UK, Canada, etc. Mainly, these projects are aimed at the digital transformation to provide increased efficiency, lower operating costs, and fast revenue growth. The support team of business analysts, managers, designers contributes to project outputs.
Among clients, there are market leaders including EBRD, Electronic Arts, and TouchPress, as well as with middle-sized businesses and startups. 90% of clients are ready to recommend the company as a strategic technology partner. Therefore, Mangosoft deserves its place as the top outsourcing company in Ukraine in this list.


Program-Ace


In 1992, headquarters were established in Kharkiv, Ukraine to deliver smart solutions around the world. The company has more than 28 years of experience in developing full-cycle software. The team of 120+ specialists does not stop showing growth in the IT sector using the latest technological innovations (VR, AR, IoT, blockchain, AI, etc.) The main service line is after all based on AR / VR development as a way of gamification in business or education applications. One of the recent projects at Program-Ace confirms their core expertise – a fully gamified farm management system for the active involvement of employees. These Unity certified developers can provide customers with powerful and interactive solutions that quickly adapt to the needs of the industry in which they work – be it marketing or manufacturing. Thanks to its proven track record, this team boasts 800+ projects in various fields and awards like TOP 3 VR & AR developers 2019 (by Clutch); The Global Outsourcing 100 companies (by IAOP), etc.
Light IT 


Looking for Data Science solutions for your project? Welcome to this software development company that has been offering various BI and Big Data solutions since 2006. The team of 150+ professionals focuses on the clients' needs and requirements to help them achieve their business goals and turn ideas into profitable products. Deep expertise in Data Science allows this company to earn millions of dollars for its clients in the era of big data. For example, they recently created MemeMachine, a unique analytic system with a huge database to make business decisions in seconds. They use innovative data mining and processing technologies to transform piles of data into useful knowledge. It is especially effective in fintech, e-commerce, advertising, and other areas where it is extremely important to make informed choices and take reasonable measures for different benefits.
QArea 


Since 2001, QArea has helped medium-sized enterprises scale their software solutions and expand their development teams with true experts. As of today, the company managed to hire over 250 specialists – software engineers, testers, business analysts, and DevOps specialists – to meet the most stringent business requirements. In their rich portfolio, you will find evidence of extensive experience working with the most popular technologies (blockchain, big data, cloud), programming languages (Golang, Java, PHP), and frameworks (Drupal, Angular). They serve many industries – arts, entertainment & music, e-commerce and retail, healthcare, real estate, and many others. A recent project was dedicated to a cryptocurrency-based social commerce platform for the Internet and mobile devices. At QArea, you can pick the most suitable cooperation model for your own project – dedicated team, staff augmentation, or project outsourcing. By offering IT staff augmentation, they help customers get started quickly on development projects and eliminate recruiting overheads.
Daxx


Daxx is a global tech partner with 20+ years of experience in different areas – from consulting to offshore development. In 1999, Daxx began its journey as an outsourcing company to help customers fill the gaps in their technology expertise. And today with 425+ experts on board, the team succeeds in many directions. More than 300 companies choose Daxx developers from Ukraine to extend their in-house teams with experts skilled in a range of technologies – .NET, C#, Java, PHP, etc. By the way, the company does not stop at the achieved results but moves forward in accordance with new challenges. In 2009, Daxx confirmed Microsoft competency requirements and became a Microsoft Certified Partner. In 2019, Daxx confirmed the certification of Microsoft Gold, and received the certificate of ISO 27001: 2013, which allowed them to provide consulting services in QA. Their value-added services (like process consulting, quality control, security testing) increase the efficiency and productivity of the business.
Sigma Software

Founded in 2002, this company has gained a worldwide reputation among the 100 leading global suppliers of outsourcing services. Not surprisingly, because 18 years of global experience in the field of product delivery and support has an impact on many companies. The team of more than 1000 experts offers cost-effective and timely solutions for customers around the world. They are corporate systems, web development portals, e-commerce platforms, gaming applications, etc. This large company can serve many vertical areas, including advertising and marketing, automotive and transportation, financial services, and so on. The company is certified ISO 9001: 2015 and ISO 27001, which allows it to be a certified Microsoft Gold partner. For this reason, more and more projects are being implemented using Microsoft platforms (Windows, Azure), and web frameworks (ASP.NET Core, ASP.NET MVC). 
Intellias


Intellias is a reputable Ukrainian outsourcing company based in many cities with more than 1,600 experienced professionals throughout the country. Know how the story of this company started and where its name came from? It was founded in 2002 by two technicians, Vitaly Sedler and Michael Puzrakov. They called it Intellias, from the word 'intelligent', to convey the essence of the company they planned to build. The goal was to help companies expand their technical capabilities and provide excellent software. And today they help through qualified consulting and product engineering. They are not afraid to take on new technologies such as artificial intelligence (AI), natural language processing (NLP) or Internet of Things (IoT). To this date, they have provided many useful solutions to Fortune 500 companies, having gained credibility in various fields. Basically, this team pays great attention to the industries specializing in automotive and transportation, FinTech services. Among the common values delivered to clients, you will observe cost reduction, team strengthening and increased work efficiency.
Infopulse


Due to over 29 years of tech expertise, Infopulse has earned a reputation as a trusted provider of full-service digital solutions. Since 1991, the company has been growing steadily, showing an average annual growth of 20%. Nowadays, more than 2,000 specialists work there, and this is one of the largest IT companies in Ukraine. Besides, there are good reasons for Infopulse to be recognized as the TOP-100 global outsourcing company (according to IOAP) and to receive many other awards. This is a certified partner of Microsoft, SAP, AWS, Cisco, Oracle, IBM, etc. The team is able to meet the highest international corporate governance standards, certified according to ISO 9001, ISO 27001, ISO 14001, PAS 99, ISAE 3402. Through different engagement models, this company offers access to extensive technical expertise from certified developers. This means that you can trust any of the projects to this team of professionals. They specialize either in custom software development with business consulting or in IT managed services (including infrastructure and cloud services). 
In addition, they make a specialty out of advanced technology like AR & VR, IoT, AI, Big Data, and blockchain development. They widely use these technologies in different industries – banking and finance, telecommunication, automotive, and others. The rich portfolio speaks for this fact. If you open it, you see blockchain-based platforms, advanced financial analytics applications, AI-driven chatbots, or cloud management solutions.
Ciklum 


Ciklum is a global company with 24 offices and 3500 specialists around the world. This company began to implement innovative ideas since 2002 and has not lost its progress to this day. Today, they offer end-to-end solutions for the Fortune 500 and fast-growing organizations. Their services cover software engineering, QA, R&D, Data Analytics, DevOps, Cyber Security, Robotic Process Automation. After studying Ciklum's portfolio full of various projects, you can conclude that this company uses advanced technology and is ready to do the best so as not to lose an established reputation. By now, Ciklum is recognized by international industry-specific associations and partner with Microsoft, AWS, Google Cloud, Magento, etc.
SoftServe


This company was founded in 1993 by two students from the Lviv Polytechnic University. These two tech enthusiasts managed to create a large outsourcing company with more than 1000 specialists in the team – advisors, engineers, designers, etc. Today it occupies 50 offices in 11 countries, but the main potential is concentrated in Ukraine. This huge team of professionals has a track record of successful projects – over 10,000. The service line of SoftServe is diverse – from engineering to business consulting. SoftServe engineers use years of experience in full-scale development to deliver valuable solutions to their customers. Among their services, you will find cloud adoption, DevOps, Big Data analytics, AI and ML, cybersecurity, and many others that allow enterprises to actively compete in the modern digital world. 
This company keeps up with all technological innovations and successfully implements them in many projects. For example, a development team recently helped with the implementation of several cloud-based environments for analytic applications and the configuration of chatbot automation. In both cases, experts meet today's business challenges with effective practices and tools. Also, SoftServe has an IT academy that prepares its students for a tech career in software engineering, app development, etc. 
Ukraine is only part of Europe's largest software development potential. You can find other options available in the IT market. For example, more and more companies are choosing software outsourcing in Eastern Europe. So, read our next article – Top Software Companies in Eastern Europe: Detailed Overview to find the most beneficial terms of cooperation.
3 Key Outsourcing Models Used by Ukrainian Software Companies
Outsourcing involves several engagement models – dedicated team (IT staff augmentation), time and material (T&M), and fixed price. Therefore, when you choose the best outsourcing company in Ukraine or any other country, you should have a full understanding of what engagement model is, the key types and differences between them and which one will be effective for your own project. Let's dive into each question!
What is an engagement model in outsourcing?

This is a set of agreements declared between a client and a vendor. Outsourcing is supposed to be a strategic partnership, not a simple transfer of responsibilities to a third party. For this reason, there are special aspects and procedures for regulating relations between partners. They determine all the necessary conditions and serve as a solid basis for cooperation. The key focus of any engagement model is made on the client's needs and the company's capabilities.

What are the types of outsourcing models?

You can choose between several types of collaboration in the IT outsourcing market – dedicated team, time & material, and fixed price. Selecting the right engagement model is a very important decision for the entire development process. How you intend to collaborate directly affects the completion of the project and other outputs. Build a solid foundation for your project right now by choosing the best service provider and working within an effective business model.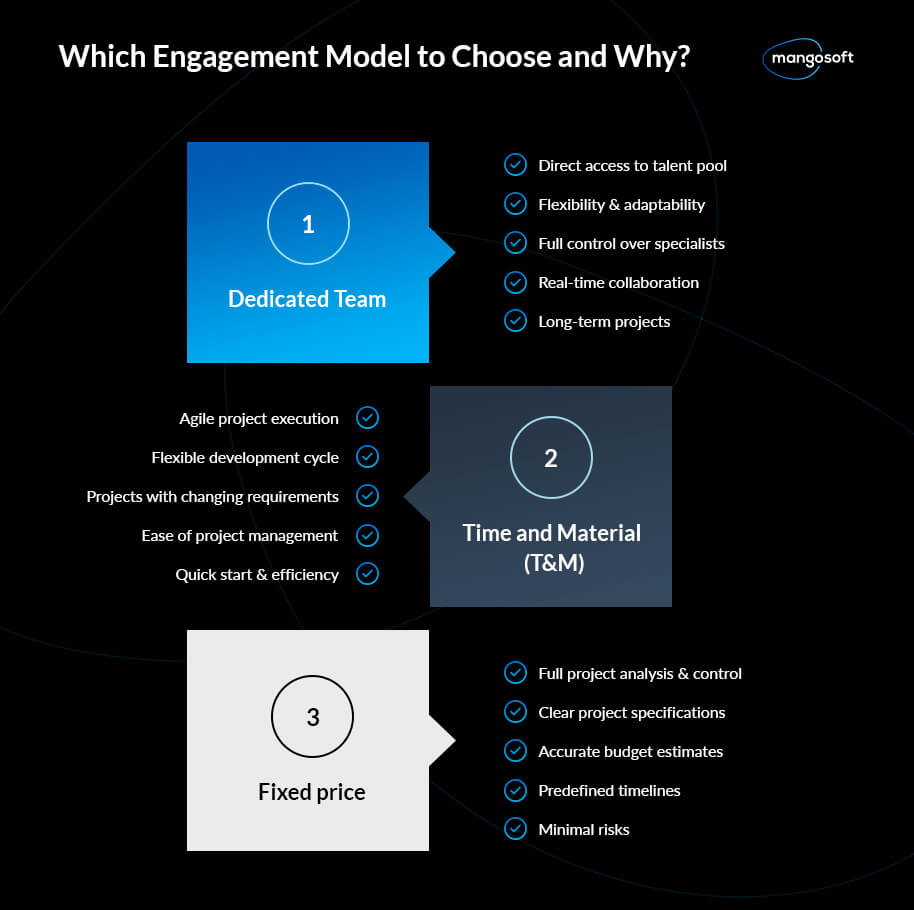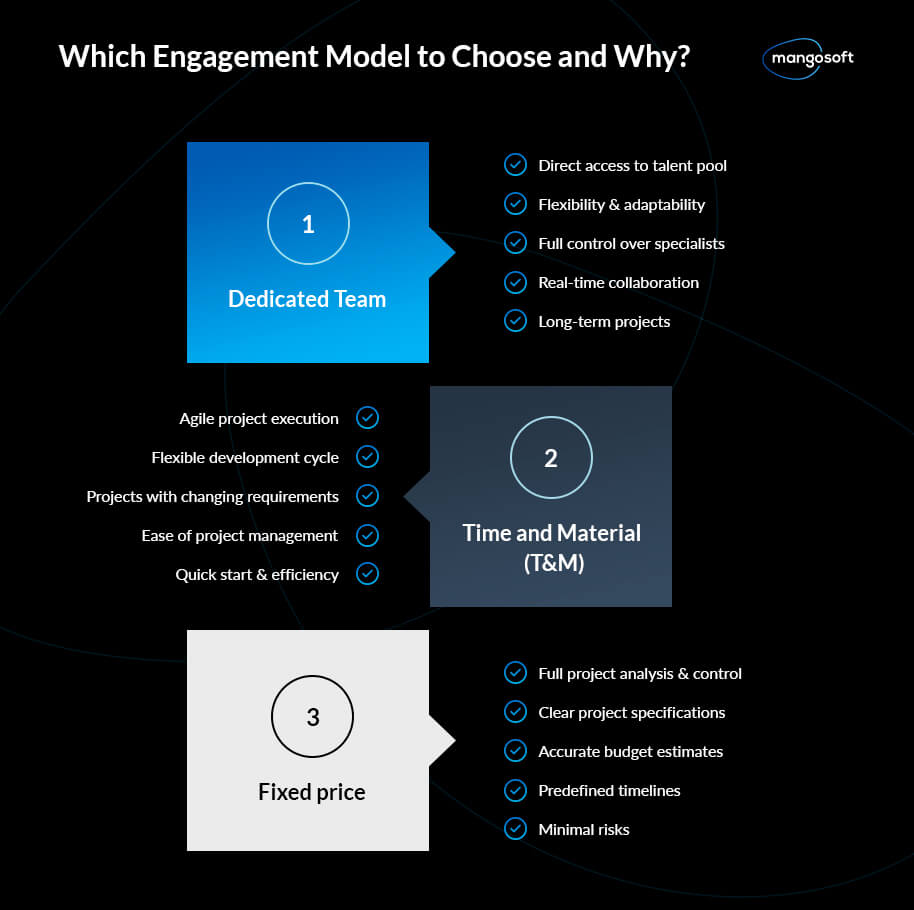 Dedicated Team (often called Staff Augmentation / Outstaffing)
This is the easiest way to expand the IT staff with third-party specialists outsourced from any part of the world. It is possible to hire nearshore or offshore developers as additional resources to complement the project with new skill sets. This way, the team becomes 100% flexible and scalable according to specific needs. The key factors of choosing this model are globally accessible huge talent pool and cost reduction (especially if you outsource to developing countries like Ukraine or Belarus where an hourly rate of developers starts at $30). 
Time and Material (T&M) – Pay-as-You-Go
This is one more effective way to develop a product with unclear or ever-changing requirements. This usually happens at the beginning when the business needs are not clearly defined, or in the middle when they may change. In this case, the entire development process is flexible, as are team participation and distribution time. The final cost is based on the actual time spent on the project and the hourly rate of the involved specialists. Who can benefit from this model? Enterprises with long-term projects that must adapt to new requirements and market needs at an early stage. However, it is imperative to set the right time and team management so as not to lose control of the project.
There is another working model according to which a certain amount of money is clearly determined and paid after completing all the necessary tasks. When is it worth applying to the given type of engagement? Firstly, as a customer, you must have the overall vision of the product with well-specified requirements for the team. Secondly, the team must understand the final product and its results. In a reverse situation, both of you should conduct a business analysis and come to a clear understanding of what to do, how and in what timelines. As a result, a fixed amount of work leads to fixed prices and terms. There are no hidden costs, but at the same time, there is no way to deviate from the planned path (only if you cancel the contract).
If you lack some expertise or feel some difficulties with a project – no matter at what stage, feel free to contact Mangosoft. Start with free consulting services to make sure that we can be your reliable IT outsourcing partner. We don't sell hours of our developers, we strive for productive relationships.
Free Consulting
Top 5 IT Hubs with Most Ukrainian IT Companies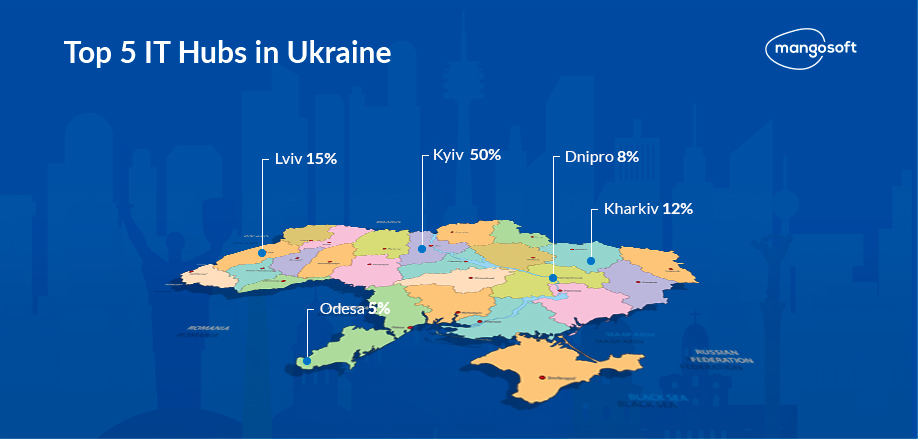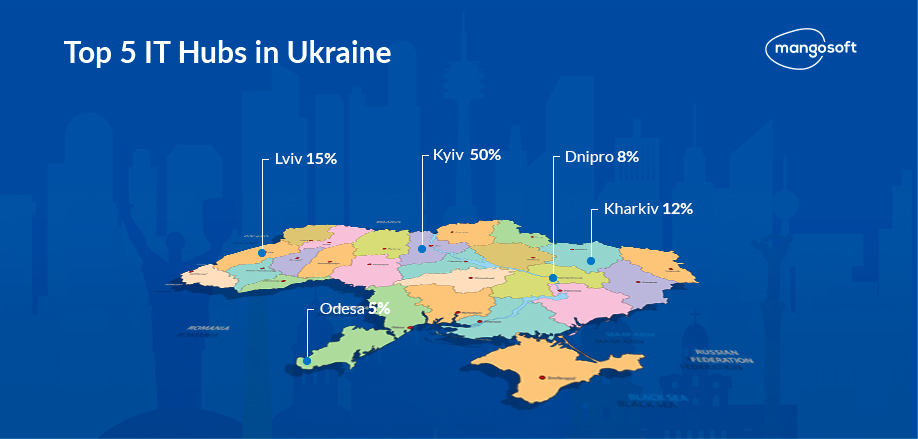 UNITCity, an innovative Ukrainian center, published a report about the IT ecosystem in Ukraine. It is stated that more than 20 cities have their IT communities. Kyiv, Dnipro, Odesa, Lviv, and Kharkiv are mentioned in UNITCity's report. So, let's examine them in-depth taking as criteria for evaluating the number of software companies, IT coworking spaces, and average developer's salaries: 
Kyiv.

This is a central IT cluster in the country: about

51,7%

of tech companies were registered in 2018. Here, you'll find specialists with any qualifications. As for the average salary of developers in Kyiv, it may start at $1,500 per month. Additionally, Kyiv has a rich IT development community that includes 10 main IT hubs like 1991 Civic Tech Center, Blockchain Hub Kyiv, Data Hub, Kyiv Smart City, iHub, and others. 

Lviv.

Located in the Western part of Ukraine, this city has 15% of all IT companies. In Lviv, CoMmuna, ITEA hub, Startup Depot, and Lviv IT Cluster are the key tech centers.

Lviv IT Cluster

predicts a 25% annual growth of the IT industry. Besides, Lviv is ranked as a top 3 tech development center along with Kyiv and Kharkiv that proves a strong potential of the city.

Kharkiv.

This is the third IT hub with the part of 12% of software companies in Ukraine. Kharkiv IT Cluster is a technology hub that includes 73 top companies specializing in app development, software engineering, and other areas. On average, a software developer can earn up to $2,000 per month. Kharkiv has a well-developed IT network that encompasses more than 60+ software companies. 

Dnipro.

Nearly 8% of all Ukrainian IT companies are located in this city. The average salary rate for a developer starts at $1,000. In Dnipro, there are several IT innovative centers like Coworking 365, Fabrika.space, etc. where tech professionals discuss and share their ideas about development solutions. Most of the IT outsourcing companies situated in this city have experience in automotive, retail, healthcare, e-commerce, and other industries.

Odesa.

This city has 5% of registered IT companies in Ukraine. Software programmers get from $1,350 per month. In Odessa, there are several tech hubs like Impact Hub Odessa and Terminal 42. Technology companies from this city solve issues in the following industries like logistics, cybersecurity, telecommunications, finances, and transport. 
Conclusion – So, What Company to Choose and How?
Outsourcing development companies are booming in Ukraine – from small to large teams. Their solutions are as diverse as their number. In this article, top IT outsourcing companies in Ukraine are described in detail. Without any doubt, you aren't limited to this list of Ukrainian software companies. Many other companies are left for your consideration.
Where will you find top Ukrainian IT companies?

Open Clutch, GoodFirms, and set your own filters – average hourly rates, team size, client/industry focus, location. You can sort options by review rating or other ranks. Do not neglect reading reviews on these platforms. As a rule, they are carefully verified for potential customers.

How to choose the right outsourcing partner?

After you select from three to five suppliers, you need to evaluate them on the basis of the following criteria: competence confirmed by completed projects, market reputation identified in previous customer reviews, team skill sets needed for successful project execution, communication and management methods. It is highly recommended that you focus on expertise as an important criterion in the hiring process. Double-check whether the company is suitable for you, during close communication with team members.
Nowadays, various development services are offered, and most of them are based on outsourcing models – dedicated team, time and material, fixed price. So, if you decide to outsource your project to Ukrainian developers, you're in the right direction. As a result, you'll get many benefits, including the high quality of services, multiple areas of special expertise and cost savings.
If you have any questions about our IT outsourcing services, do not hesitate to contact us, and our experts will help you find the solution for your business as soon as possible.
Subscribe
Enter your email address below to subscribe to our newsletter