Central and Eastern Europe is a viable alternative for American, Canadian, and other companies to open or relocate R&D offices there. As a result of Eastern European software outsourcing, they get a huge talent pool with high technical experience, first-class product development. All this is supported by convenient time zones, several cultural differences and fairly cheap prices for software development services.
Which Eastern European development company to choose for productive cooperation in 2020? In this article, we'll pay attention to Ukraine, Poland, Romania, Bulgaria, and Belarus as the most frequent outsourcers. You'll get the list of successful IT outsourcing companies in Eastern Europe. We'll uncover what benefits they offer to foreign companies, and Keep on reading it to find a reliable partner for yourself!
10 Trusted
Eastern European Software Outsourcing
Companies
In this section, we have collected information about the top 10 outsourcing companies in Eastern Europe, which you can check below:
Mangosoft


This is a development company located in the center of Eastern Europe – Kyiv, Ukraine. It was founded in 2016 by a technical entrepreneur. He aims to create market-leading solutions in reliable partnerships with global customers. Today, Mangosoft has 120+ highly-skilled professionals on board 70% of them are at the middle and senior levels. They are able to translate any business ideas into specific projects. Noteworthy, each month the portfolio is replenished with a successful case study. In total, the company has delivered 250+ projects for various industries. They cover e-commerce, fintech, logistics, media and entertainment. Due to  a wide tech focus, the team can provide services for SMBs (small and medium-sized businesses) and large enterprises. The software solutions from Mangosoft helped clients generate $5+ million. At the same time, its clients save $2+ million of operating costs. At Mangosoft, the key specialization encompasses such areas as Big Data, blockchain, Internet of Things (IoT), Enterprise Resource Planning (ERP), Data Science, Artificial Intelligence (AI), Machine Learning (ML), and DevOps engineering.
Additionally, the company has more than 8 years of VR and AR development experience. This technology is widely used in e-commerce that creates more interactive shopping experiences. By the way, gamification is becoming an increasingly popular trend in most businesses. For example, the recent project of Mangosoft was devoted to developing a mobile game for a consulting firm. 
Read the review of Mangosoft left at Clutch.co:


Inoxoft


This development company was founded in 2014. The founders set the goal of keeping Ukraine on the list of leading IT market players. They were aimed at being capable of solving global technological issues. And today, this team of more than 100 qualified professionals develops solutions for customers around the world. They specialize in full-stack development services. They deliver valuable products to end users in line with their expectations and market trends. Mainly, the industry focus is on education, healthcare, logistics and fintech, and the client focus – on the midmarket and small business. In addition to conventional technologies (Python, .NET), these experts use other new technologies, such as Flutter. This user interface toolkit was released only 3 years ago by Google. But it has already gained popularity due to the useful feature of developing mobile, web and desktop applications. They are created on a single code base. So, you can try out this state-of-art technology at Inoxoft.
By the way, both previous Ukrainian companies have earned a good reputation in the field of IT outsourcing in Ukraine. Thus, if you are interested in working with Ukrainian developers, we suggest that you familiarize yourself with a detailed overview of the top IT outsourcing companies in Ukraine. What is more,  List of TOP Software Development Companies in Europe can also be considered. In the lists, you'll find more available options for your project.
Scand


When considering Eastern European software outsourcing, most come to Belarus. This is one of the promising countries with true specialists available with lower rates. This software development company was founded in 2000 by a group of Belarusian enthusiasts. They managed to show rapid growth immediately. Initially, a small team specialized in developing software written primarily in Java and C ++. Over 20 years of work in the market, a team of 20 people has turned into a team of 250+ specialists. They work with Java, .NET, C/C++, PHP, JavaScript, Python, AR, VR and many other technologies. They develop competitive products around the world. They are engaged in various fields of activity – from application development (web, desktop, mobile, cloud) to UX / UI, QA and DevOps services. Their competency comes in handy in many industries, including e-commerce, education, advertising, healthcare and others. 
Along with custom projects for enterprises, mid-sized businesses and start-ups, this company manages to create its own product. They are libraries, SDKs, plugins and different extensions that facilitate business processes. For example, they created WP MultiMailer, a WordPress plugin. It allows you to send data from one contact form many email addresses. They set high standards in accordance with ISO 9001: 2015 and ISO / IEC 27001: 2013. The first certification corresponds to quality management, the second – to information security.
Altoros


This is another well-known Belarusian software development company in the world. What makes it well-recognized? 19+ years of expertise, 400+ full-time developers (44% Seniors/56% Middles), international partnership (Microsoft, Intel AI, AWS, IBM Cloud), etc. With 5 global offices, this team of professionals helps Global 2000 organizations. The offer them sustainable and innovative solutions. Their service line starts from IT consulting to developing custom products. Alsom they can integrate and migrate developed software to new different platforms. With the help of this team, you can achieve modern digital transformation goals. For example, you can deploy cloud-native platforms (like Cloud Foundry) or other replatforming techniques. One of Altorosa's projects proves its competence in cloud transformation. The key challenge was to simultaneously serve 10,000 users, registering at least 100 new users per minute. In the end, they were able to significantly improve the overall uptime and application performance.
Neoteric


We are now heading west to highlight Polish software companies. Poland is a leader in East European software outsourcing. Neoteric is one of such companies that has helped startups and enterprises. They have successfully implemented software projects since 2005. They offer customized services to develop or expand a team to complete a client-side project. This team specializes in AI in order to positively influence decision-making processes. They succeed in machine learning, predictive analytics, recommendation engines, natural language processing. Their solutions vary among different industries – telecommunication, healthcare, e-learning, and other business sectors. Whether they create a product from scratch or work on existing apps, they can help out. They combine technical knowledge with a complete understanding of the needs and goals of the business. This company tends to be technical partners instead of offering lines of code. They solve all possible problems of end-users with the help of full-fledged software. Currently, they are working on more than 50 projects on 5 continents and are building 3 of their own startups based on VC (Venture capital). 
The team is proud of the tangible results achieved in many projects. Let's study one of them. They created an AI-driven platform with an effective recommendation system. The client got a 10-fold return on investment, a 2-fold increase in the conversion rate, 20% customer churn reduction. It was developed for one of the largest Polish telecommunications companies with almost 1 million customers.
Future Processing


This Polish software development company was founded in 2000. a central office in Gliwice, Poland. The tech specialization of Future Processing includes blockchain, Big Data, AI & ML algorithms, product design, cloud services, etc. Moreover, the company has about 250 tech experts, and it's ranked with 4+ stars by clients on Clutch. The other advantage of Future Processing is that it has ISO/IEC 27001: 2013 certificate proving top-notch quality and deep technical expertise. This Polish IT software company has clients from more than 13 states and comes up with solutions in banking, logistics, public sector, and many other industries. Future Processing has a nearshoring outsourcing model – that delivers services to the other IT offices situated in neighboring Polish regions. Thus, a company has proved to be a successful partner for global IT market leaders like Microsoft. 
High-Tech Systems & Software


Our next stop for successful outsourcing to Eastern Europe is in Romania. So, where to outsource in Romania? High-Tech Systems & Software (shortly HTSS) is one of the available options to find a good service provider. It was established in 2012 to provide high performance in many fields. Nowadays, they cover not only software development and integration with other systems. These experts offer IT and business consulting, support and maintenance. 240+ team members with diverse areas of expertise provide customers with comprehensive products. They are tailored to each industry – whether retail or pharmaceutical. Developing each type of software, they use the latest technology and high industry standards. This company is certified with ISO 9001:2015, ISO 14001:2015 and ISO 27001:2013. Each of these certifications specifies standards and requirements for providing services to customers. For example, ISO 27001:2013 guarantees information security. The multifunctionality and guaranteed quality of products and services help this company succeed among other players in the market. 
evozon


This is another company from which you can get fully customized IT solutions in Romania. Since 2005, Evozon has been rapidly expanding the range of services and technologies. Today the service line is represented by development, support, migration and testing services. And instead of using only Java and Perl, the company began to specialize in .Net, PHP, Python, Apple iOS and Android technologies. With 15 years of business experience and more than 500 professionals, this company has helped dozens of organizations. They help achieve digital goals and show fast results – steady growth, gradual business development, reduced time to market and operating costs. They can act as an extension of internal teams or cover everything throughout the whole development process. The staff includes not only developers. They hire business analysts, project managers, UX designers, manual and automation QA engineers, etc. 
Besides, this company actively uses the opportunities for professional cooperation with IT leaders. For example, since June 2012, Evozon has been the official Silver Partner of Magento. As a result, they gain valuable access to tools and support to help companies stand out in e-commerce.
Melon


Considering Bulgaria to outsource your project there? Right, there are good reasons – this sector is developing rapidly in Bulgaria and has undergone significant changes and growth in recent years. So which company to choose? Melon can be a good pick – dedicated teams, diverse development services, a portfolio full of cases. This company was founded in 2003 as a result of the merger of a web development company (WebLang) and a design and creativity studio (AdVenture). And with 50 employees on board, this company started a productive journey into the IT world. To this date, the team of 150+ specialists works on the web (.NET, PHP, Python, HTML/JS, Angular, React, Node.js) and mobile development for iOS and Android. Besides, their tech expertise covers UX/UI design, DevOps, and QA services. 70% of their services are aimed at the needs of the midmarket. They are able to create teams that exactly match the necessary technical skills and experience needed for each project. For example, for Turnpike Group, a Stockholm-based company, they managed to hire Android and iOS developers, as well as a DevOps engineer to work on applications and their firmware.
ScaleFocus


This is another engineering company based in Bulgaria. It was created in 2012 to provide sustainable growth for global customers. A team of 850+ specialists successfully fulfills this mission, striving for excellence in every project. Their efforts are aimed at customer success through software innovation driving the business forward. Today, this team serves such domains as cloud computing, data management, intelligent automation, IoT, and other digital transformation areas. Their customer-centric solutions are widely used in telecommunication, insurance, financial services, etc. Thanks to the valuable experience of successful projects, they can collaborate with Fortune 500 companies such as Amazon, Google, Microsoft, SAP, IBM, and others.
Eastern European Development: 5 Top Countries
In Eastern Europe, software outsourcing gains traction among tech giants like Microsoft, IBM, or Google and other large enterprises. The main factors that affect this choice are: 
Quality development, management and technical support services;

A wide diversity of specialists from different areas of expertise;

Strong educational backgrounds backed by valuable work experience;

Relatively low costs caused by developing economies, etc.
In this section, we prepared the information about 5 key players in the Eastern European development market like Bulgaria, Belarus, Poland, Romania, and Ukraine.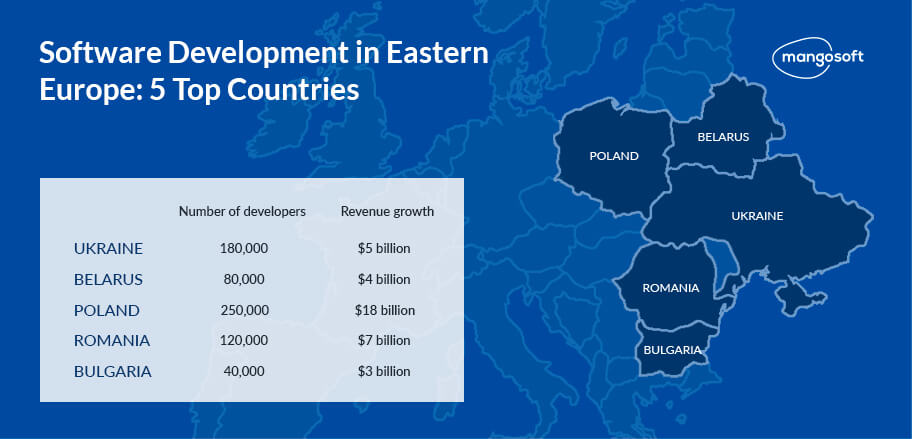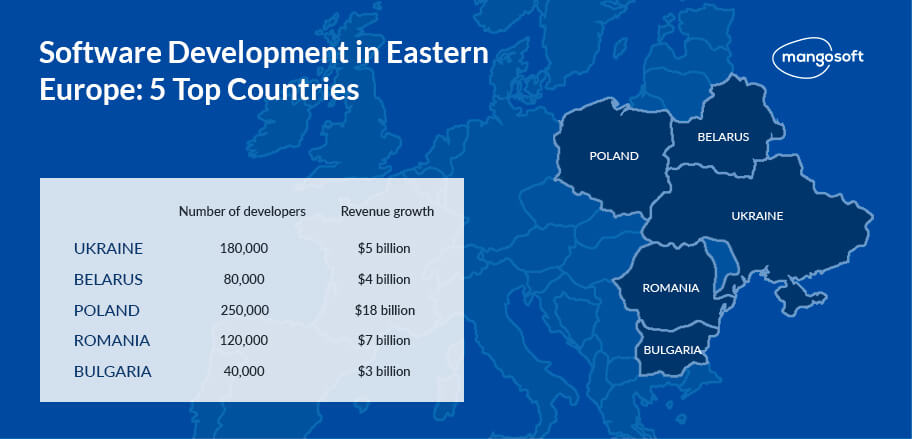 Ukraine 
The Ukrainian IT sphere grows nowadays. Over 180,000 developers work on different projects. This number will continue to grow in the nearest 3 years. Other than that, this sector generated about $5 billion in 2019. The reasons for it lie behind simple tax regulations and wide investing opportunities. The Ukrainian Venture Capital Association published a report on IT centers that would help foreign companies open their businesses in Ukraine. GrowthUp, 1991 Open Data Incubator, and many others are on this list.
Belarus
The Belarusian tech companies are in the race of software development. It has over 1,000 companies with 80,000 developers. Moreover, the IT sector earned $3,94 billion in 2016. The benefits of outsourcing services to Belarus are reasonable prices, qualified assistance, and high technical background. This country has favorable geographical conditions and strong technology professionals that make it attractive to foreign companies to relocate their offices and invest in the Belarusian economy.
Poland
The Polish IT market has 3,3% of GDP growth and $18 billion in revenues each year. About 70% of tech companies have foreign investments in Poland. This country is a member of the European Union (EU), and it has a low inflation rate. Altogether, it explains why Poland is popular among foreign investors. The Ministry of Digital Affairs coordinates the Polish IT sector. Also, it controls the allocation of $2,5 billion received from the EU under the project of Digital Poland Operation Plan.
Romania
The Romanian IT industry has a value of EUR 5,9 billion in 2019, which is 80%. The ANIS (Romanian Employers Association in the Software Industry) predicts that Romania will generate 27% of revenues in 3 years. Excellent proficiency in back-end development is the main factor that explains why foreign tech companies outsource software services to this country. Basically, this number will be on the rise as only Bucharest – a capital of Romania – has 27% of the market share in the technology sector. IT companies hire 120,000 developers to finish projects across domains and industries worldwide.
Bulgaria
The Bulgarian IT sector increases its marketing positions in Eastern Europe as well. Bulgaria has 10,000 ICT companies with a professional focus on electronics, cloud migration, and infrastructure architecture. About 40,000 developers serve companies to deliver the latest solutions to end-users around the world. The approximate revenue increase in software development services is EUR 3 billion in the last 7 years. Bulgaria has a high added value rate ranking it in 5th place among the EU states. Besides, the Bulgarian tech sector managed to earn about 45% in 2017.
Wrapping Up – How to Find the Best Software Outsourcing Service Provider?
In conclusion, it should be noted that in Eastern Europe there is a thriving software development market that encourages foreign companies to open their offices and outsource IT services. Ukraine, Poland, Belarus, Bulgaria, or Romania? What is the best option to outsource software services in 2020? 
If you have doubts about selecting a company for software development outsourcing, here is a step-by-step guide to you that will help you make the right decision:
Step 1. Define a technological stack or at least an industry focus;

Step 2. Shortlist all the companies specializing in the necessary area;

Step 3. Consider a minimum project budget a company is ready to work within;

Step 4. Contact a company representative for more information on the terms of cooperation;

Step 5. View company ratings on independent platforms and carefully review the portfolio
We've reviewed the leading IT outsourcing companies in Eastern Europe to simplify the search process for you. Our review criteria are based on technological experience, service lines, years in business and reputation, number of specialists, location, etc. Now, it may be easier and less time-consuming to find the best service provider. You can even skip the first two steps – immediately contact a company from our list.
If you opt for Mangosoft, we are ready to answer all your questions, leaving all the uncertainties about outsourcing to a professional Ukrainian company. Contact us right now to get favorable conditions for cooperation with us!
Subscribe
Enter your email address below to subscribe to our newsletter