Central and Eastern Europe is an attractive spot for US, Canadian, and Western European countries to open and relocate new offices there. The main reasons that influence this decision are high technical expertise, top-notch software product development, convenient time zones, few cultural differences, and reasonable prices for software services. The Eastern European development market is striving, and the research conducted by The Wroclaw University of Economics proves this fact: 45,6% of people are employed in the IT sector.
What are the reasons for outsourcing software development in Eastern Europe? Which countries join this bandwagon and show excellent results in this sphere?
In our article, we'll pay attention to Ukraine, Poland, Romania, Bulgaria, and Belarus, uncover what benefits they offer to foreign companies, and describe the list of successful IT outsourcing companies in Eastern Europe. Keep on reading it!
In Eastern Europe, software outsourcing gains traction among tech giants like Microsoft, IBM, or Google. The main factors that influence their choice are high-quality services, effective management, and low costs. Nexton.io, an online recruiting company, predicts the rise of software developers to 26 million in 2022. So, will this number affect the Eastern European region and in which countries it might occur? In this section, we prepared the information about 5 key players in the Eastern European development market like Bulgaria, Belarus, Poland, Romania, and Ukraine.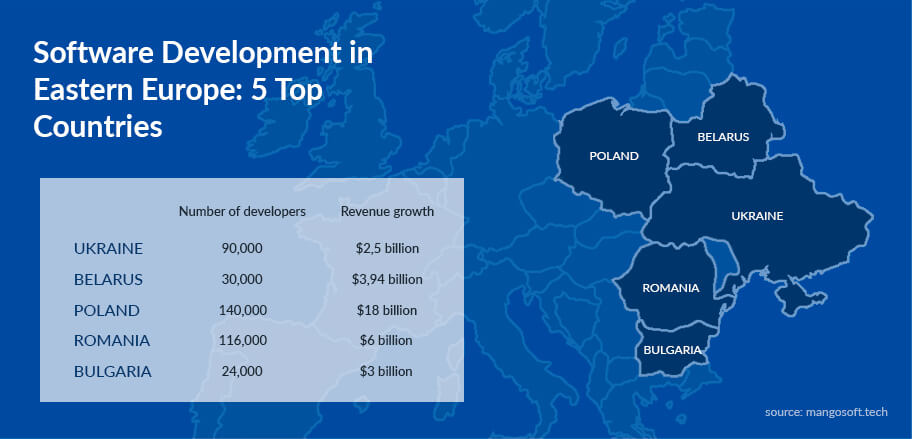 Ukraine
The Ukrainian IT sphere grows nowadays. UkraineInvest, an investment agency, states that Ukraine has over 90,000 developers. This number will continue to grow in the nearest 3 years. Other than that, this sector generated more than $2,5 billion in 2015. The reasons for it lie behind simple tax regulations and wide investing opportunities. The Ukrainian Venture Capital Association published a report on IT centers that would help foreign companies open their businesses in Ukraine. GrowthUp, 1991 Open Data Incubator, and many others are on this list.
Poland
The Polish IT market has 3,3% of GDP growth and $18 billion in revenues each year. About 70% of tech companies have foreign investments in Poland. This country is a member of the European Union (EU), and it has a low inflation rate. Altogether, it explains why Poland is popular among foreign investors. The Ministry of Digital Affairs coordinates the Polish IT sector. Also, it controls the allocation of $2,5 billion received from the EU under the project of Digital Poland Operation Plan.
Romania
The Romanian IT industry has a value of EUR 5,9 billion in 2019, which is 80%. The ANIS (Romanian Employers Association in the Software Industry) predicts that Romania will generate 27% of revenues in 3 years. Excellent proficiency in back-end development is the main factor that explains why foreign tech companies outsource software services to this country. Basically, this number will be on the rise as only Bucharest – a capital of Romania – has 27% of the market share in the technology sector.
Bulgaria
The Bulgarian IT sector increases its marketing positions in Eastern Europe as well. Bulgaria has 10,000 ICT companies with a professional focus on electronics, cloud migration, and infrastructure architecture. The approximate revenue increase in software development services is EUR 2,5 billion in the last 7 years. Bulgaria has a high added value rate ranking it in 5th place among the EU states. Besides, the Bulgarian tech sector managed to earn about 45% in 2017.
Belarus
The Belarusian tech companies are in the race of software development. It has over 1,000 companies with 30,000 employees. Moreover, the IT sector earned $3,94 billion in 2016. The benefits of outsourcing services to Belarus are reasonable prices, qualified assistance, and high technical background. This country has favorable geographical conditions and strong technology professionals that make it attractive to foreign companies to relocate their offices and invest in the Belarusian economy.

Why Should You Outsource Software Development to Eastern Europe?
According to the study conducted by McKinsey, a global consulting firm, Western Europe has a shortage of skilled software employees. In Germany alone, companies struggle to close 41,000 positions of IT developers. That's why outsourcing to Eastern Europe is a make-or-break alternative for foreign investments. Let's describe the reasons why you should outsource to this region in detail.
In-Depth Technical Expertise
Eastern Europe has highly professional software developers who are experienced in implementing back-end and front-end solutions. From improving client-side to enhancing server-side in applications, IT programmers can assist clients by providing development services. The key tech development focus of the Eastern European states are cloud computing, system migration, database, and server scalability. This way, it is estimated that there will be a higher talent resource in this region in the nearest future.
High English Proficiency
The high level of English makes communication between business owners and outsourcing companies easier. Software developers from Ukraine, Poland, Belarus, Bulgaria, and Romania have an excellent command of this language. The reason is that English proficiency is one of the main requirements for entering the IT sphere. In Poland and Romania, not only English is a widespread language among developers – German and French are in hand as well. Thus, excellent knowledge of foreign languages is the other advantage of outsourcing to Eastern Europe.
High-Quality Development
Software companies from Eastern Europe apply the latest technological trends to solve most client's issues. Using ML&AI algorithms, developers craft products from scratch and enhance their scalability. Furthermore, digitalization is quite popular nowadays: about 68% of business owners see it as the key alternative to improve organizational operations in companies. Therefore, outsourcing becomes more and more common among Western European countries because it helps them grow in the global market.
Low Payment Rates
Low hourly rates are another reason for outsourcing software development to Eastern European countries. For example, IT developers from Belarus and Ukraine charge between $25 and $35 on average, while Polish programmers take up to $65 per hour and more. In Bulgaria, an hourly rate ranges from $45 to $55 whilst Romanian software programmers earn around $35-45. All in all, these rates are relatively low in comparison with the US software developers who can get above $70 per hour.
Emerging Tech Talents
The Eastern European region has a high number of university graduates who specialize in computer sciences. Let's unravel statistics for each country in this section. So, Ukraine has about 16,000 graduates annually. The approximate number goes to Poland, which is accounted for 15,000 each year. Bulgaria and Romania have 3,000 and 6,700 IT graduates per year. In Belarus, about 3,000 university students graduate from university. Hence, such a factor affects the rapid growth of software development in Eastern Europe.
So, Which Country to Choose and How?
Ukraine, Poland, Belarus, Bulgaria, or Romania? What is the best option to outsource software services? If you have doubts about selecting a country for software development outsourcing, here is a step-by-step guide to you that will help you make the right decision:
Step 1. Decide Your Tech Stack

Depending on the technical focus, each Eastern European country has its specialization. For instance, Ukrainian software engineers are good at distributed systems, security, and computing. Poland and Bulgaria use Java and Python in implementing IT solutions. Belarus and Romania have PHP as a key technology for solving software issues. The other factor that might determine your choice is the problem that you want to fix in your product – be it cloud migration or app development – a specific tech stack can solve it.
Step 2. Consider Project Budget

The amount of money is an essential indicator that influences a software project. When you run a small-sized company or a startup, your budget matters for product development. In this case, you need to assess your financial opportunities and select the country with suitable based on hourly rates for software development services. As it has been mentioned previously, Ukrainian and Belarusian developers charge from $25 per hour, which is lower than in Poland, Bulgaria, and Romania. Hence, you can be acquainted with hourly rates and decide by yourself where it's better to outsource in Eastern Europe.
Step 3. Evaluate Tech Expertise

Each Eastern European country has a technical readiness rank that describes the growth of realizing digital solutions. Ukraine gets to 85 which is supposed to be positive for the IT sector development, while Poland is evaluated at 45. Romania is accounted for 48, and Bulgaria has 38. Moreover, Belarus isn't included in the rating. Technical readiness gives a general overview of the economic situation, IT progress, and the number of highly-skilled software professionals in the market. Therefore, this indicator is helpful for business investors because it gives them a full understanding of whether a country has a safe financial environment.
Step 4. Review the Company's Rating

Clutch and GoodFirms are the primary resources that include information about IT companies evaluating their readiness to work with clients. Ukraine, Poland, Bulgaria, Belarus, and Romania are on the list. There are several criteria for choosing an IT software partner: client's references, hourly rates, a number of coders, and portfolio. In addition, reviews are assessed as well, and it has an approval rating – stars (from 1 to 5). Based on them, it's possible to make decisions about which company to select and where to outsource. When all these steps are completed, business owners can make decisions about outsourcing software services.
Step 5. Sign a Partnership Agreement
It's the final stage of finding an outsourcing software development partner that shouldn't be neglected by two parties. The main norms that must be written are project time frames, payment details, service and technology types. In addition, tax laws can influence this process because each Eastern European state has specific regulations like controlling capital flow and providing safe financial transactions. Hence, business owners can orient themselves about their norms and decide where to outsource software development services.
5 Leading Software Development Companies in Eastern Europe
Selecting a reliable outsourcing development company is a complicated task for every business owner. There are several criteria that influence the choice like location, reputation, hourly rates, technical expertise, and the number of professionals. In this section, we gathered information about the top 5 outsourcing companies in Eastern Europe that you can check out below:
1. Mangosoft

This Ukrainian company has a wide tech focus providing services for SMBs (small and medium-sized businesses) and large enterprises. Offices are located in Kyiv, Ukraine and Santa Monica, the USA. Its specialization encompasses such areas as Big Data, blockchain, Internet of Things (IoT), Enterprise Resource Planning (ERP), Data Science, Artificial Intelligence (AI), Machine Learning (ML), and DevOps. Mangosoft has 120+ highly-skilled professionals between Middle and Senior levels on board. Additionally, the company has more than 7 years of developing software solutions to clients that helped them generate $5 million+ and save $2 million+ of operating costs for their business. Among the other rewarding nominations, Mangosoft has 5+ stars on Clutch and GoodFirms. The company solved business problems in sectors like e-commerce, FinTech, logistics, healthcare, retail, and media.
2. Future Processing

It's a Polish software development company that was found in 2000 with a central office in Gliwice, Poland. The tech specialization of Future Processing includes blockchain, Big Data, AI & ML algorithms, product design, cloud services, etc. Moreover, the company has about 250 tech experts, and it's ranked with 4+ stars by clients on Clutch. The other advantage of Future Processing is that it has ISO/IEC 27001: 2013 certificate proving top-notch quality and deep technical expertise. This Polish IT software company has clients from more than 13 states and comes up with solutions in banking, logistics, public sector, and many other industries. Future Processing has a nearshoring outsourcing model – that delivers services to the other IT offices situated in neighboring Polish regions. Thus, a company has proved to be a successful partner for global IT market leaders like Microsoft.
3. Neurony

The Romanian IT outsourcing company – Neurony – has about 50 programmers that have expertise in Enterprise Resource Planning (ERP), Data Science, and others. Its office is situated in Bucharest, a Romanian capital. Furthermore, Neurony assists clients in supporting their content management systems (CMS), designing applications, and improving infrastructure. The company has 4+ stars on Clutch, and 12 clients recommend it as a reliable technology partner that solves their business issues. Neurony finds solutions for traveling, management, and marketing industries. Besides, it worked with the social charity organizations, investment firms, and hospitals. Neurony has 15+ years of experience in software development and collaborates with more than 200 clients around the world. The additional value of the company is that it develops cutting-edge products for business.
4. Code Runners

It's a Bulgarian IT outsourcing company that has tech experience in software integration and custom development. Code Runners has nearly 40 programmers on board having expertise in
AI and ML algorithms, ERP, native and hybrid app development. Since 2012, it offers high-tech solutions to start-ups, small and medium-sized enterprises in such industries as management, construction, charity, and others. Code Runners has 4+ stars on Clutch from 6 clients, and it was nominated as Top Software company in 2019. Based in Sofia, a Bulgarian innovative hub, this IT organization strives to become a world leader in the market. Visualization, storage, security, analysis, and sourcing are extra data services offered by Code Runners to customers. All in all, it has a strong potential for expanding its business and growing more value in the IT area.
5. Code Inspiration

The Belarusian IT outsourcing company has technical expertise in QA testing, app development, and web design. Code Inspiration is based in the capital of Belarus – Minsk – that has become the main tech center in Eastern Europe. Its coders use programming languages such as Java, Kotlin, Swift, React Native, PHP, and JavaScript. Big Data, ML and AI, Data Science, and blockchain are the important tech focus in a company. Code Inspiration implements solutions in the following industries as healthcare, education, retail, trading, and entertainment. In fact, this company has 4+ stars on Clutch, and 17 clients recommend its services on this resource. Code Inspiration is a software development leader in the Belarusian market, and it has rewards like Top 5 App Development, Top 7 Mobile Development, Top 2 IT Consultancy in Minsk, Best Technology Consultancy in Belarus, 2018, and many others.
Wrapping Up – Where to Outsource in Eastern Europe?
To conclude, Eastern Europe has a prosperous software development market that allures foreign companies to open their branch offices and outsource IT services. Not only low hourly rates and suitable geographical positions are the main reasons that influence the decision of business owners to outsource their services to this region. Outstanding product quality and reliable cooperation are among the essential factors that determine the success of IT services in Eastern Europe.
We reviewed 5 states like Ukraine, Poland, Romania, Bulgaria, and Belarus and estimated its top IT outsourcing companies. Our standards for assessment were the company's size, a number of professionals, technology expertise, and industries. The chosen IT organizations are Mangosoft, Future Processing, Neorony, Code Runners, and Code Inspiration as they belong to the same mentioned criteria.
In summary, you should make a final decision of choosing an IT outsourcing partner and where to outsource your software services. Whether this is Ukraine or another country, it's necessary to evaluate each company carefully and read its reviews on outside resources like Clutch and Good Firms. Mangosoft was also recommended by clients here – so, you can read our references and contact us if you have any questions regarding software development, and our experts will gladly help you!
Subscribe
Enter your email address below to subscribe to our newsletter