The world has become small due to globalization. It forces businesses around the world often do more with fewer resources. It's a great challenge under the conditions of global competition. But, there is an upside – access to talents and resources through outsourcing and offshoring. It comes in almost all industries, in various shapes and sizes.
According to Grandviewresearch, in 2021, the global outsourcing market was valued at $ 245,9 billion. By 2030 it is expected to expand at a 9.1% CAGR and exceed $525 billion.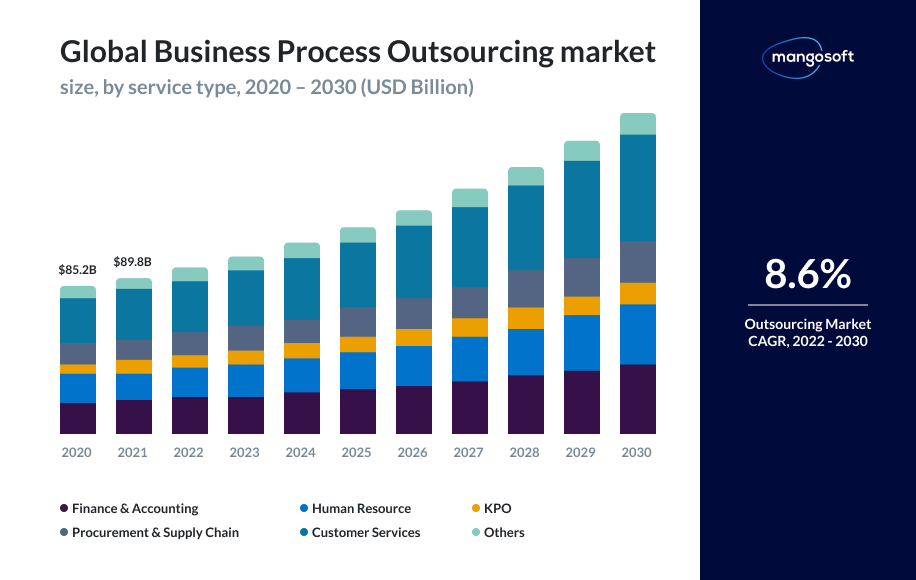 Today, we will provide you with a 3D view of outsourcing vs offshoring in IT. The rise in the number of IT companies and rapid industrialization drive outsourcing and offshoring worldwide. So, this segment holds the largest revenue share, constituting about 34% in 2021.
Offshoring vs outsourcing meaning is not always correctly differentiated. The terms are even sometimes interchanged or come simultaneously. Yet, each of them has its meaning and features we are going to look into.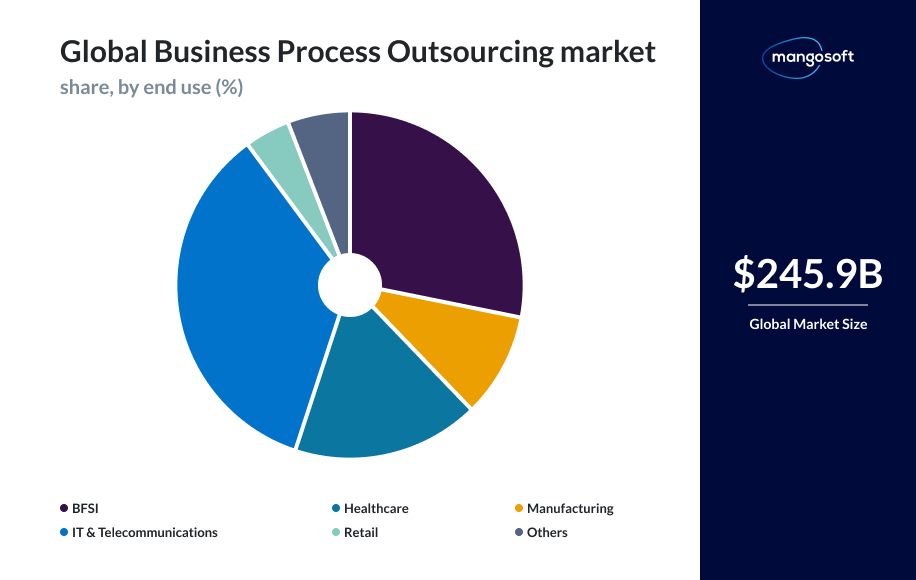 What is Outsourcing?
Outsourcing can be viewed as an umbrella term for the process of contracting third-party individuals or organizations to perform certain tasks. 
The phenomenon emerged in the late 1980s when the actively growing companies required more specialized work. The external providers at the same time had more appropriate skills to get the job done faster. It led to hiring external contractors for business functions and project management.  The company could then focus on its strengths. So, outsourcing is primarily a question of skills or expertise.
What is Offshoring?
Offshoring is the term referred to outsourcing work to service providers outside your country. Moving jobs or services overseas is often conditioned by location-based costs. Businesses look for lower-cost regions to decrease expenditures without sacrificing quality. Lower expenses come as a result of lower rates, taxes, and fees allowed overseas. It can even be the entire business or the firm processes relocation to another country. It helps companies generate great savings and become more profitable.
Knowing the outsourcing vs offshoring definition, let's now proceed to their more detailed comparison. 
Key Differences Between Outsourcing and Offshoring
Outsourcing refers to delegating work to eternal companies. Offshoring is getting the business tasks done in another country, often overseas.
These two processes serve different objectives and bring different benefits to a company.
There are always 2 sides to every aspect, so let's see into outsourcing vs offshoring pros and cons.
Outsourcing seeks a proper level of specialization. The result is expert service and labor flexibility. You can always add resources on demand.  Offshoring is in its turn applied to cut budgets. Yet, it also means getting work done faster by skilled and well-qualified people at lower costs.

Outsourcing is focused on improving the core

business

activities. Offshoring's primary aim is cost-efficiency. Offshoring helps enter new markets and overcome certain regulations that constrain

business operations

in the primary country.

When the work is outsourced, contractors are not the company's employees. They are just an anonymous team or freelancers, often managed by a project manager. During offshoring, people carrying the task out will be the enterprise employees, hired as a dedicated remote workforce. They are the company's extension in a

foreign

country directly managed by a company manager.

Outsourcing commonly presupposes the hiring of a workforce for a specific task. Offshoring

involves

complete role performance by well-trained and highly experienced specialists with a high level of responsibility and initiative. 

With outsourcing, your 3rd party vendor takes care of the recruitment, interviews, training, onboarding, and supervision of your team.  In offshoring, you have to be fully

involved

in talent acquisition: candidate interviewing, offshore employees' onboarding, and integration. To make sure your

business

goals will be achieved, you should realize direct team management.

There is also an

offshoring vs outsourcing difference

in work quality. You set the corporate and working standards for your employees, no matter in-house or offshore.But with contractors, the quality may fluctuate. It depends on the specialists carrying out your tasks, their dedication, and prioritization.

Outsourcing is a fast and efficient solution for quick projects or problems that require efficient solving. Offshoring is an ideal long-term solution, good for scalability based on business needs at the moment. You can start with a small team and then expand and diversify it upon necessity.
| | | |
| --- | --- | --- |
|   | Outsourcing | Offshoring |
| Purpose | Proper level of specializations | Budget saving |
| Focus | Core business activities improvement | New markets and overcoming constraints to business |
| Employees status | Contractors | Company's employees |
| Functions | A workforce for a specific task | Complete role performance as an in-house employee |
| Involvement | 3rd party vendor takes care of HR | You have to be fully involved |
| Quality of Work | You set the corporate and working standards | The quality depends on the contractor |
| Time and Scalability | Fast and efficient solution for quick projects | Long-term solution, good for scalability based on business needs |
Offshoring vs Outsourcing
– Disadvantages and Risks
Like any business venture, neither outsourcing nor offshoring comes without risks and drawbacks. Though their benefits to a great extent overlap, the processes don't share the same risks.
To help you make a well-weight decision, we are going to speak about these aspects either.
Both offshoring and outsourcing receive lots of political criticism for moving jobs to other states. 
However, we are interested in business-related risks, and they are described below.
Risks of Outsourcing
Lack of vendor familiarity with the customer's business and business processes

.

You need to put your tasks forward as clearly as ABC.

Confidentiality

. Ensure you have a rigorous NDA to avoid confidential project data leakage.

Misaligned interests of the client and contractor.

You may focus on

business

tasks. Your vendor will only care about the faultless technical part.

Hidden costs.

The project's estimations are based on the expected norms. At times, the unknown factors may rise and require unexpected costs.

Problems in communication.

To be on the same page you should speak one language with your vendor and make sure they understand your culture.
Risks of Offshoring
Location.

Offshore resources are still part of your team, so make sure you are in good contact not to slow projects down even when travel is not possible.

Failed deadlines.

Time zones matter and when you offshore some work you need to be extremely careful with deadline settings.

Business time difference.

It's important to take into consideration, not only the time difference but local/regional holidays in the country/region of offshoring as well.

Lack of control over the process and results.

It may be solved with a proper head or project manager from your main branch, at least at the formative stage of the offshore subdivision.  

Business disruption due to local political unrest or changes in economic policy.
Let's now proceed to the key question.
Which One Is Better?
The choice of the right option or proper combination of both can only be subject to your business needs and objectives.
The main secret is to catch the right balance in distributing competencies.
Outsourcing works better for short-term projects. Offshoring facilitates enhancing your business operations and expands your team with a deep pool of talent. In such a case, you still have 100% control of the process and can consider the offshore staff your own team.
We are sure both outsourcing and offshoring cooperation can be established effectively and comfortably without compromising on quality. All you need for this is the guidance and help of the right experts with a proper tech stack and skills. We can offer you our helping hand or consultation if you still doubt what to choose.
Free Consulting
Let's also mention some best practices to relieve your hesitation.
Industry Trends
In the past several decades, we could witness multifaceted outsourcing vs offshoring examples. Lots of them are successful. 
However, offshoring and outsourcing are now on the rise due to the global economic recession caused by COVID-19. The pandemic made companies around the world seek the best options to survive. They had to switch to a remote mode in every case possible, increase efficiency and cut costs at a time.
Those who have managed this challenge, have got used to it and are even comfortable outsourcing or offshoring their processes that could be contracted out.
IT industry's leading trend is now industry consolidation, larger companies hire smaller vendors.
Should Your Business Outsource or Offshore?
The decision to outsource or offshore or not to is not always obvious to the business managers or owners. There are 4 significant aspects to consider before making the final decision. 
Speed Matters
If time-to-market is critical for your product, then outsource.
Professional teams have access to a greater pool of talents, resources, and expertise without the necessity to look for specialists, hire, and train them to accomplish the task.
Expertise is Niche
Technology changes hastily. Even if you have an in-house team, your employees are unlikely to have unique or rare skills like the IT developers, who deal with various projects every day. Hiring an AI or ML engineer in-house does not make sense, but a third-party professional can provide you with a competitive edge through high-quality service.
Skills May be Incomplete
If you lack your in-house employees to carry a project out, scale up with outsourcing. It's reasonable, quick, and cost-effective.
You are Not in the IT business
Third-party experts will combine the industry standards with their best practices to create a product or service working at peak efficiency. More than that, they will prompt you on project overall quality improvements and further scalability.
Offshoring vs. Outsourcing: Conclusion
COVID-19 has blurred the lines between in-house employees and in-house teams, everyone had to shift to a remote mode. So, there is no difference anymore where your remote worker is. But if you can capture the full benefits of the situation, why should you lose your chance? Outsource or offshore your non-core business tasks, focus on what you specialize and enjoy the process along with the results. Mangosoft is ready to consult you or take the challenge of becoming your vendor. Let's discuss it.
Subscribe
Enter your email address below to subscribe to our newsletter