"It is not the strongest of the species that survives,
not the most intelligent that survives.
It is the one that is the most adaptable to change."

― Charles Darwin
The COVID-19 pandemic is spreading around the world, which undoubtedly poses a serious problem for public health and the global economy. It is estimated that major economies will lose at least 2.4% of GDP over 2020. To put this into perspective, COVID-19 will cost the global economy a total of $2.7 trillion according to Blomberg Economics. As a result, this becomes a pandemic of concern over the economic impact on businesses.
In this article, we will provide you with useful information on how to survive in unusual conditions in 2020. We have gathered some facts and figures about the big changes in the business areas. You will know:
Which industries will come under enormous strain and which will grow rapidly in times of crisis; 

Where it is better to do business or where to invest money in;

How to allocate resources efficiently in a crisis and many other crisis-management mechanisms. 
5 Proven Steps to De-Risk Your Business in the COVID-19 Crisis
The best part of the measures undertaken by entrepreneurs is quite typical for any crisis situations: the abandonment of long-term projects and investments, liquidation or tying-up of non-core business areas, etc. These are just alternative ideas that you might want to put into action. 
Here is a list of alternative actions you can take to improve the situation in your organization during a crisis caused by the rapid spread of coronavirus:
Analyze the Business Situation to Reset the Priorities of the Company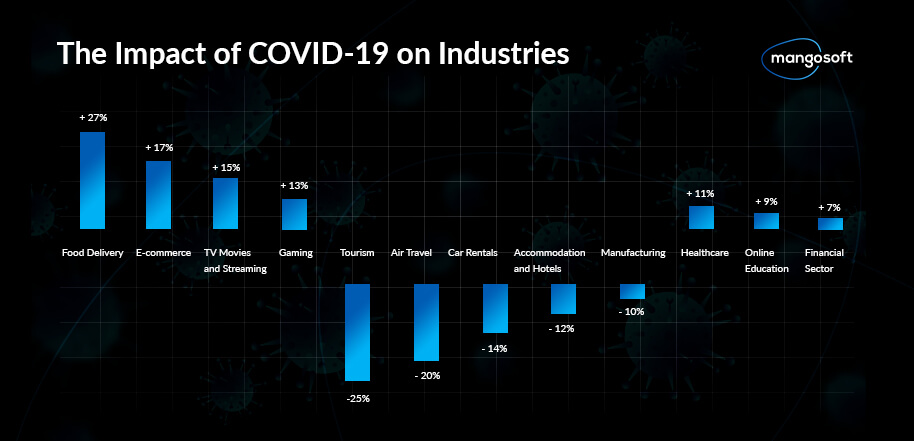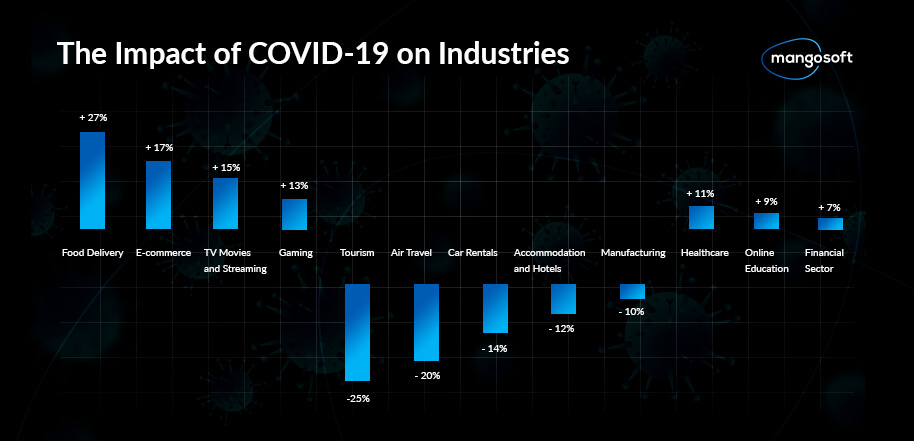 In the event of a crisis, you should study and change the list of immediate priorities in accordance with the current needs of your business. Thus, you can set up a high-priority project that will be claimed during quarantine or will be profitable after it. What business are or will be in demand and profitable? The list has always been like this – food, medicine, Internet business are in demand. The online gaming and app industry is positively impacted by the fact that most people have to stay home to limit the spread of coronavirus. It is the tourism industry, along with air transportation, hotel and restaurant business, that will suffer the greatest losses from this crisis. But be sure that everything else will be restored overtime after the crisis, but perhaps at a slower pace. 
Where to Invest During Coronavirus? 
One of the best ways to reprioritize is to start looking for a different path, following new trends. The rules of the game have changed, and you need to adapt to all new conditions. The coronavirus pandemic will change entire industries and patterns of behavior of companies and consumers. The transition to online shopping can be a long-term trend, as well as the transfer of employees to a remote work schedule. Therefore, if you cannot control the given situation, adapt to it and make the best use of it for your own business. So, while your business is paused, you can invest in stocks that are ready to capitalize on powerful long-term trends. Based on our research of the industries above, investing in each of the following five stocks can be a very reasonable step:
E-commerce marketplaces of different types – B2B, B2C or C2C;
Exchange platforms and e-wallets;

Online payment systems;

Game development and design;

Healthcare mobile apps and software;

Distance learning platforms, etc. 
Plan Your Budget and Work in View of New Priorities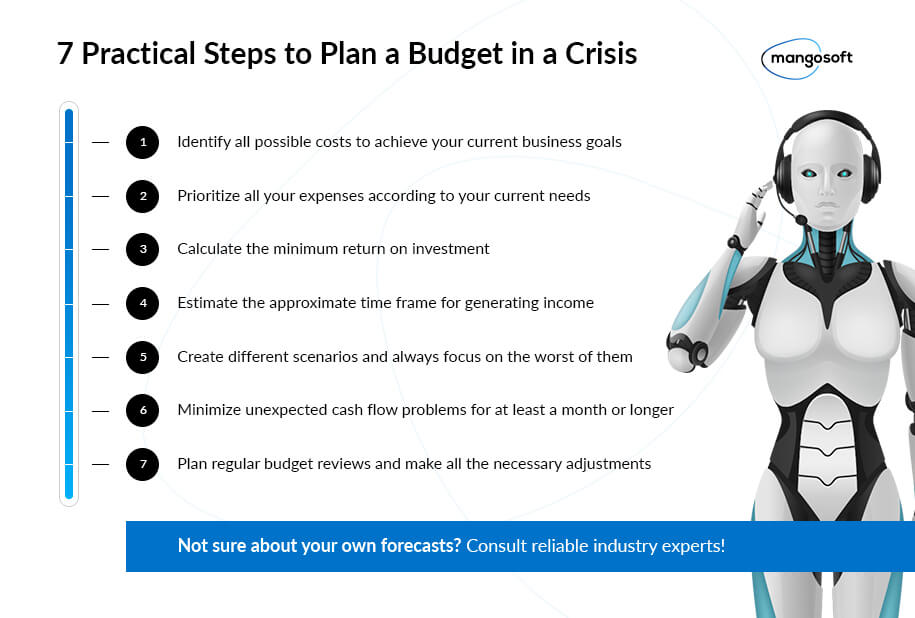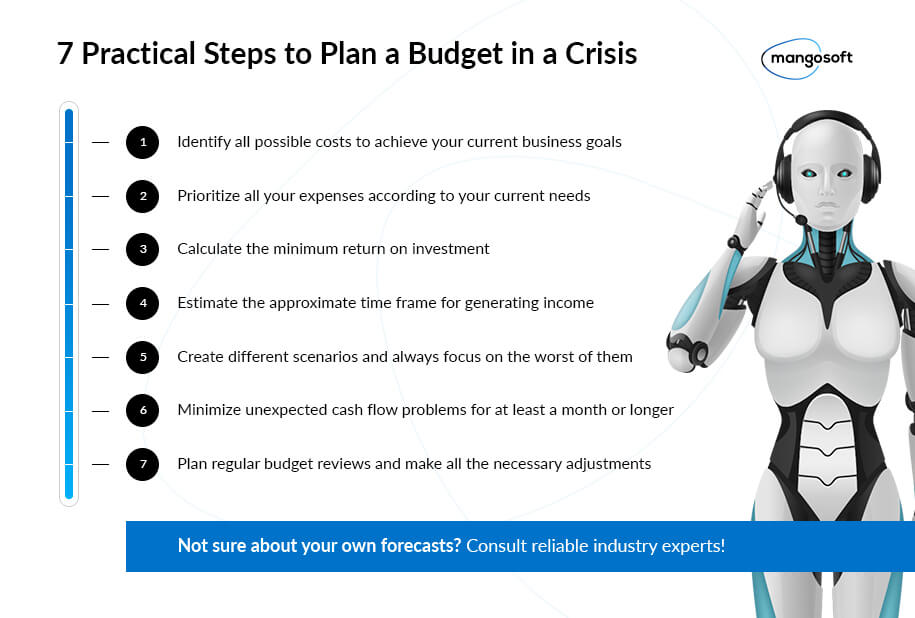 Is your budget still pulling money in a million different directions? Development? Promotion? In times of crisis, you should make new plans to point out the direction that will help your business grow. Don't forget to carefully monitor the financial performance of the company to immediately respond. How to finish investing in a project if everything is already running? If you plan to complete the development of a new product and/or its release but are not sure about the demand for this product in a crisis situation, readily accept this fact and start analyzing. 
You may need another plan that is useful in this case, like never before. If you haven't created it yet, here you are the easy guide to creating a business contingency plan. 
You should consider all the existing or potential changes in your market, customers, and competition. Who knows, maybe, this is the best time to realize this project, especially if the cash supply allows. In addition, you can try to attract new investors or get a business loan. 
Allocate Resources Efficiently in All Your Projects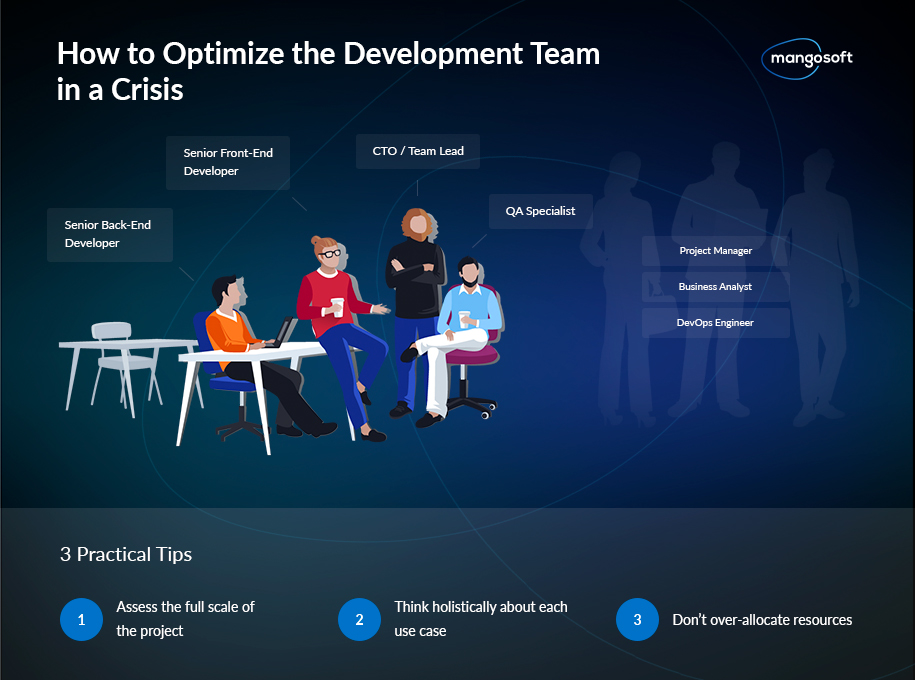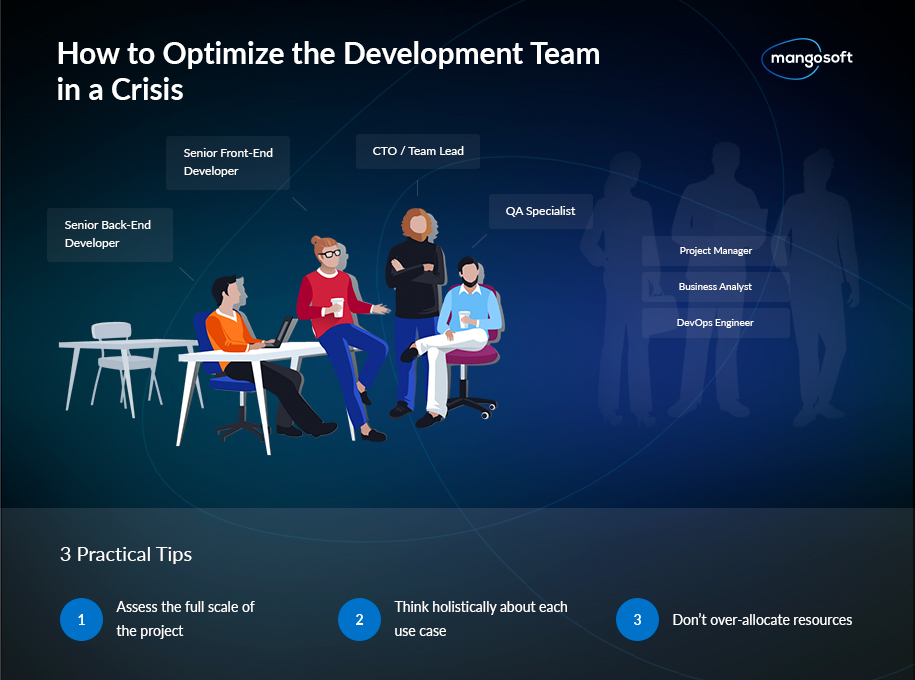 The resources are diverse, from people you work with to the materials and tools you need to complete the project. That's a lot to allocate, right? During a natural disaster or outbreak, it can be difficult to decide how to allocate all these resources. The worst way you may follow is to dismiss all employees, unload the stock and do nothing. Be sure the crisis will never end for such people. Instead, it is better to focus resources on increasing profits, lowering operating costs, or increasing return on investment. Take the time to ensure you have a complete picture of the project before making any decision. Stay solution-focused anyway! You can send a part of people on vacation, pay them a part of their salary, let them work remotely or learn something new. The crisis will end – in a month, two or three, they will return and you will again go according to your business plan.
Rebuild Business Processes in the Current Circumstances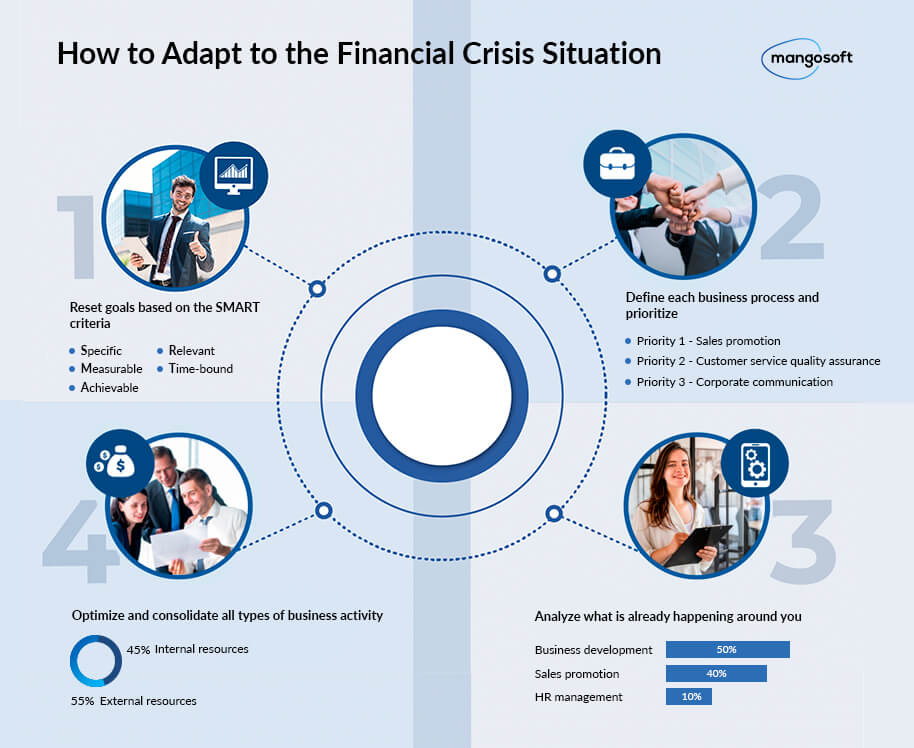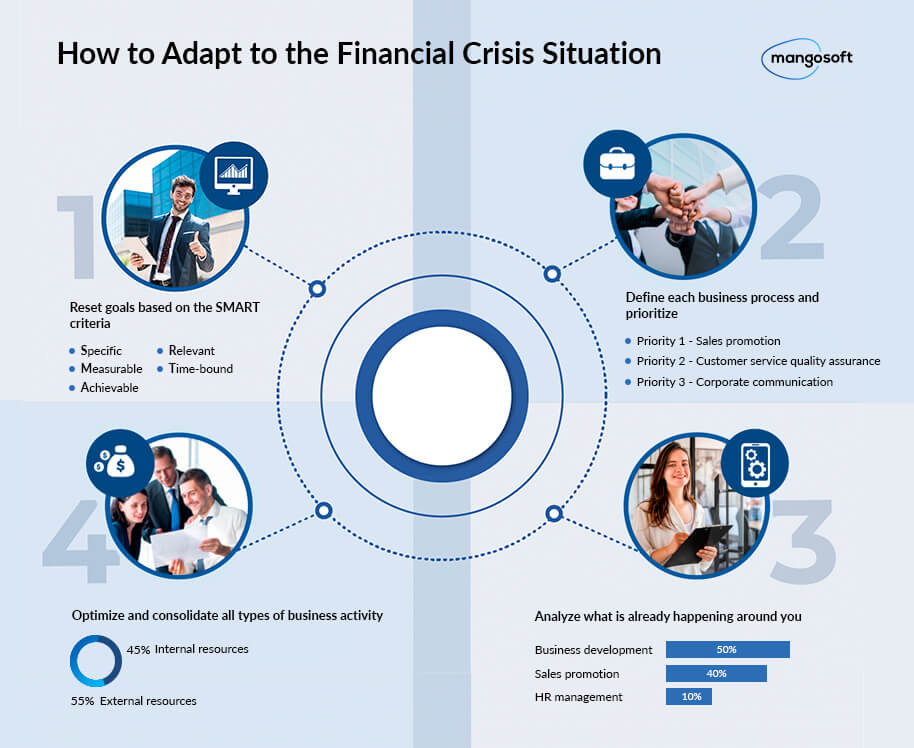 Many companies are quickly reconfiguring their business processes and even trying to benefit from the changing environment. For example, Domino's Pizza, the network of pizzerias announced the recruitment of 10,000 new employees in the United States: couriers, support service operators, drivers, etc. The company also introduced a contactless delivery service, which is especially popular for the recommendation to "maintain a social distance". So, it is quite important to quickly navigate in the new realities. Decide right now if you can maintain customer relationships at an adequate professional level. Put the case that there is a brick and mortar store. Maybe, it is time to create an advanced online shopping experience through e-commerce software and an effective delivery system. You can transfer all the sales consultants from stores to online platforms and establish connections with potential customers online.
Find a Reliable Partner for Long-Term Cooperation with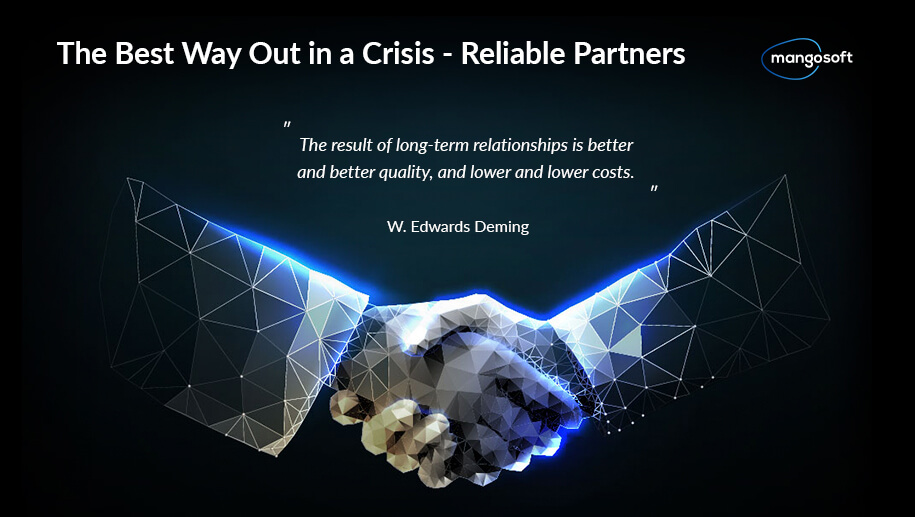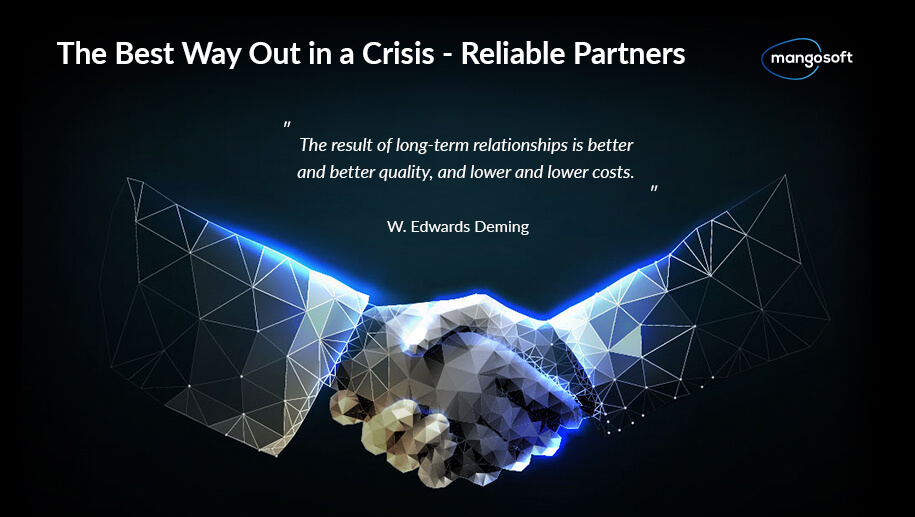 You can't be totally isolated, especially during a crisis, even if the coronavirus causes it. A good partner can be a valuable asset to your business. Why think about working with a business partner? Nowadays, you can apply to a variety of service providers based on different engagement models – outsourcing, outstaffing, or freelancing. Not only does the business partner distribute part of the work, but this cooperation also gives you the opportunity to create beneficial ideas and take advantage of an additional set of skills. Why not just share your business idea with someone who is as passionate as you are and promote it together at your own expense? 
For example, if you do not have technical knowledge but want to run a web application, a business partner with coding experience is extremely useful in the long run. By the way, social distancing and lockdown caused by coronavirus stimulated the use of financial applications by 72% only in Europe. We are sure that this number will only grow – our clients around the world prove this fact. They demonstrate positive results even in the event of a crisis due to qualified support and all the above-mentioned steps. 
Wrapping Up
Even if during this period, you do not have the opportunity to provide your services to customers, do not stop communicating with them. When the quarantine ends, and it will certainly end, the demand for goods and services that are not available to consumers can not only return to previous levels but may also increase.
So, don't forget that the economic crisis is also an opportunity – this is a great opportunity to develop. You just need to be prepared to make very rapid decisions with flexible and dynamic teams that can change rapidly as the situation develops. This dedicated team can be ours. So, welcome to our website, where you can find out more about services, or contact directly our experts to get professional assistance in the given situation.
Subscribe
Enter your email address below to subscribe to our newsletter