Attracting many sellers to your marketplace platform is an excellent decision. It helps you provide your site visitors with a diversity of selling items. The quality of selling goods and services varies significantly. So, all sellers offer the same goods for various costs. Big competition among sellers makes them set competitive prices. You can earn from commissions through online marketplace platforms.
Read on to become knowledgeable about the top 10 e-commerce solutions for multi-vendor marketplaces. Also, get to know which features are required from both a vendor and a client's perspective.
Essential Features of a Multi-Vendor Marketplace
All multi-vendor marketplaces must offer rich functionality from both the seller and buyer side. So, let's first review which features your website should have from a client's perspective.
Ease of use. Convenient navigation can turn the process of shopping as pleasant as possible. Once you make the way from selecting a product to checkout as simple as possible, your site comers will become your loyal clients.

Simple checkout. Streamline the process of checkout so that your checkout page is intuitive and short. It will help you increase conversion with the same amount of visitors on the site.

Order notifications. Inform your clients on their order once it is submitted, processed, sent, and delivered. Also, you can provide a tracking code.

Several languages and currencies. Improve the user experience on your marketplace by letting your clients choose the desired language and currency.

Several payment methods. Let your

users

select the method of payment that is the most suitable for them. It will boost your sales significantly.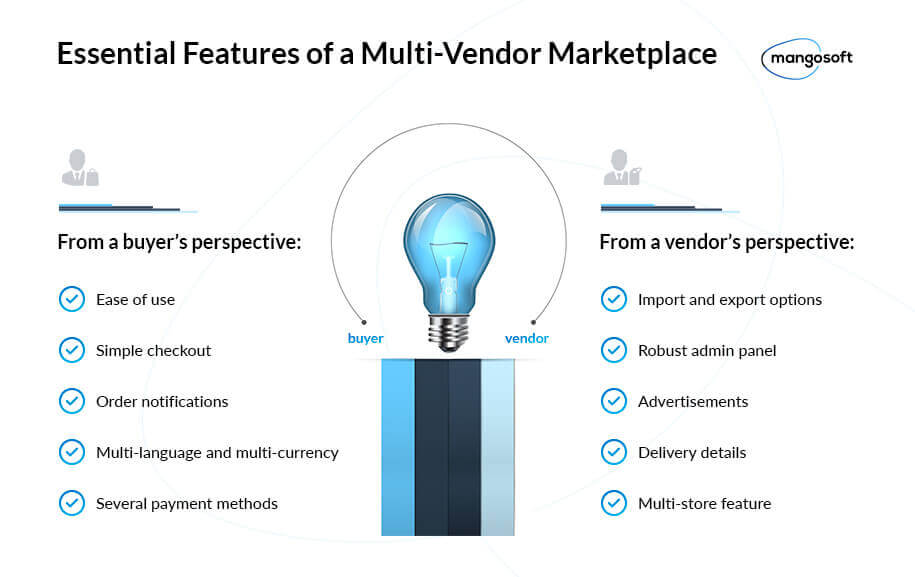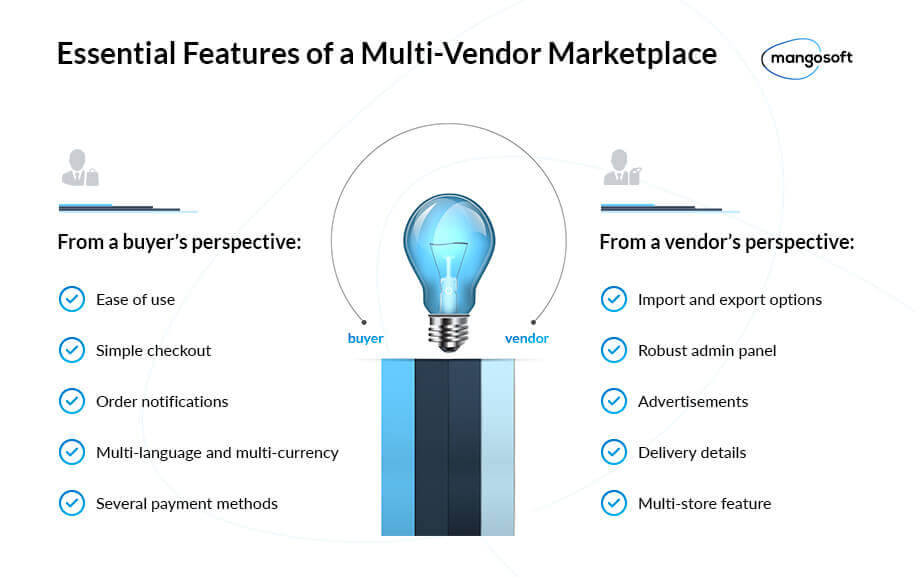 Vendors also play a crucial role in the e-commerce business. Let's examine the features your marketplace should offer from the vendor's part.
Import and export options. Such an option enables vendors to import and export the details they wish to move to their marketplace. Alternatively to carrying out this process manually, it can become automated and faster.

Robust admin panel. Permit your providers of selling

items

to run their accounts, their goods or

services

, sales, stock from a single spot.

Advertisements. An embedded PPC feature assists vendors in selling their items, as well as control their advertising campaigns. Such an option will increase the users' incomes by enabling them to determine their advertising budget and duration of campaigns.

Delivery details. Improve convenience for vendors by allowing them to select a shipping company. Such a feature will help a seller notify his client on the period it might require for the order to be delivered to his place.

Multi-store feature. Sometimes a seller owns several shops. An excellent marketplace should provide a businessman with an option to add so many shops as needed.
A Comparison of Best
Marketplace Platforms
The growth of e-commerce platforms has become decisive for an entire commercial sector. An increasing number of businesses, mainly small-scale ones, are looking to showcase their product on multi-vendor marketplaces. It is an excellent instrument for getting publicity and increasing sales, as a result. On the other hand, an increasing number of vendors are looking to build marketplaces individually.
Attracting other vendors to market their goods and services on your marketplace lets you provide your website comers with a rather broad spectrum of selling items. So, we want to offer the best multi-vendor e-commerce platforms that will turn your website into a selling marketplace.
#1 Marketify
Marketify is a theme designed for WordPress. By working with Marketify together with its suggested add-ons, you may create an online shop. The same as selling digital items via the website, you can also use this theme to build a multi-vendor marketplace. Marketify charges $63 and its simple design incorporates top-notch functionality. Let's move to its main advantages and disadvantages.
Advantages

Disadvantages

The theme works within WordPress that is regarded as top CMS;

The process of managing payments happens on an automated basis. It promotes managing the partners' sales quickly;

Marketify has impactful design;

It has an affordable cost.

The theme is intended for selling digital items alone;

Marketify works only on WordPress.
#2 Magento
It is a widespread e-commerce site builder with excellent features and extensions. Thus, the Marketplace add-on assists you in developing a big-scale marketplace. Also, the extension integrates with the website builder to enable sellers to sign up on your marketplace. As soon as you confirm the selling items' provider request, he may proceed with adding the goods. This add-on is regarded as the top one among others provided by the platform, and it charges $349. Now we will examine its main pros and cons.
Pros

Cons

In contrast with competitors on the market, this plugin is accessible for setup;

You can install customized commission levels for all sellers;

You can create unique accounts for all sellers;

Top-notch HTML markup;

Responsive and accessible client support.

You can not set up the Magento plugin on websites not built on this marketplace platform;

The cost of the plugin is not much affordable.
#3 Prestashop
Prestashop is an open-source platform designed to build e-commerce websites. It provides an Agile Multiple Seller plugin that helps to create a marketplace. It charges $144 and has rich functionality. The plugin enables you to manage the sellers' accounts as well as set the commission levels. Moreover, Agile Multiple Seller enables sellers to set and run their webshops. They can select a unique URL, logotype, and create a tailor-made theme. The plugin provides the following 3 options for managing payments:
You may allow providers to gather payments independently;

You may control the payments on your own;

You may work with an interface of joint management.
Let's examine the advantages and disadvantages of Agile Multiple Seller.
Advantages

Disadvantages

Each seller can fully configure his store using your marketplace;

You can control the payments of your providers;

The plugin is flexible for managing both the store and payments.

All sellers may configure only one store;

Only users who have their websites built on Prestashop can use the plugin.
#4 Mirakl
Mirakl is an e-commerce software provider needed to build a marketplace. Marketplaces enable businesses to quickly add new items by integrating third-party vendors. Overall, the platform has its supporters in 40 countries worldwide. Among its clients is such a successful retailer as Auchan. Yet, Mirakl mainly focuses on the American market. Let's move to the main pros and cons of this provider of marketplace solutions.
Pros

Cons

Mirakl stands out from its competitors on the market thanks to its excellence;

The achievements of Mirakl include the cooperation with Auchan, Galeries LaFayette, and other big enterprises;

It provides a vast choice of functions;

Automated responses simplify the interaction between clients. In its turn, it makes the management process for sellers easier;

It offers management instruments for sellers (e.g., the capacity to suspend an account).

The cost is not much affordable and is set separately for every member;

The platform is primarily focused on large-scale stores.
#5 Ubercart
Ubercart is an available module that enables you to turn your website into a marketplace. It provides a wide array of functions. Yet, you need to be tech-savvy as well as have expertise in website development. It is much versatile and permits sellers to run their stores. They may monitor orders and activity of their webshop comers. The payments are easily distributed to the sellers since they are processed via PayPal Mass. Let's move to the main advantages and disadvantages of Ubercart.
Advantages

Disadvantages

The module can be used at no cost;

It offers versatile management of seller accounts;

It has a rich set of functions.

Using Ubercart implies having web building expertise, and does not fit newbies;

Only users with websites built on Drupal can use this module.
#6 CS.Cart
CS.Cart is a software for creating an online store. CS.Cart Multi-Vendor version of this software enables you to build a marketplace. The platform charges $1450 for a permanent purchase, while you can pay $590 per year. CS.Cart provides a versatile platform that is user-friendly and functional. Also, all sellers can set their interfaces separately. Let's move to the main pros and cons of this CS.Cart Multi-Vendor.
Pros

Cons

You do not have to set and customize a plugin since the options provided are superior;

It has a rich set of functions;

All sellers get their interfaces.

The cost is not much affordable.
#7 Yo!Kart
Yo!Kart is less commonly used compared to its competitors on the market. It is a piece of software that fits best for building e-commerce solutions. Also, Yo!Kart has an easy to use interface. The platform enables sellers to run their online stores independently, you are only responsible for moderation. The provider of goods and services brings you up to date on activities on the website before they become publicly available. It makes him feel independent, whereas being under your strict control. Yo!Kart permits you to make some sellers anonymous so that site comers can not see their names. Depending on the scale of your business, this platform offers 3 costs: $250, $999, and $5999. Let's move to its primary advantages and disadvantages.
Advantages

Disadvantages

Yo!Kart suits for marketplace making most of all;

It has an intuitive interface;

The moderation option provides you both disengagement and safety;

The platform allows your sellers to stay anonymous.

The premium tariff plan costs quite a lot;

The Yo!Kart-made site can not be integrated with websites built on

different

platforms.
#8 Sharetribe
Sharetribe is one of the best marketplace platforms developed for building e-commerce solutions. It provides several plans where you can control from 300 to 100.000 sellers. You can choose any tariff plan that you find the most suitable for your marketplace. Their prices range from $39 to $239. The platform enables the vendors to lease their goods or services, but not only sell them. Any user can set his account based on his individual preferences. Sharetribe offers an excellent messaging option where sellers can keep in contact with their clients. Let's examine the main pros and cons of Sharetribe.
Pros

Cons

It is developed for building marketplaces;

The platform has rich functionality that implies the product can be both sold and leased;

The prices for plans are affordable.

The Sharetribe-based website can not be integrated with other platforms.
#9 X-Cart
X-Cart is a commercial platform that fits businesses of any scale. It provides a Multi-Vendor plugin for $1495 that enables you to build an e-commerce site. Sellers have the opportunity to manage their orders, change the shipping conditions, and distribute their items into sections. This platform allows you to control all the activities occurring in your marketplace. It implies you can change or delete any item on your website, and run the sign-up process of new sellers. Let's review the primary advantages and disadvantages of X-Cart Multi-Vendor.
Advantages

Disadvantages

The interface allows you to control the items sold on your website;

Sellers can categorize their selling items;

The platform provides a rich set of features.

The price of the X-Cart Multi-Vendor is not much affordable
#10 Shopify
It is a widespread software for developing a webshop. Its multi-vendor marketplace app turns your Internet store to a marketplace. Thanks to its grabbing-and-dragging feature, you may create a unique interface of the shop effortlessly. Moreover, it comprises many themes that will make your website look attractive.
A multi-vendor marketplace app can assist you in developing a full-featured site and let you add many sellers to it. Besides, you can add unlimited items and synchronize them from different online shops. Integrating it with Shopify features, you can get a powerful admin panel with multiple options. Let's see which pros and cons this platform has.
Pros

Cons

The marketplace builder is much user-friendly. user-friendly. You may launch your webshop quickly with no tech skills;

The platform provides you with SSL certificate, hosting, and other necessities required to run a webshop;

It offers many customization options, including a broad spectrum of themes and applications.

The platform is not much affordable. Also, if you are looking to upgrade your website, you should get a more expensive subscription;

You should spend on transaction fees that may notably cut your income.
Best Marketplace Platforms For Businesses
All the variants listed above are sound. However, these platforms are not all-purpose so that you should define your business needs before you choose one. So, if you are going to sell digital items, WordPress would suit you best. Once you consider organized sellers who market physical goods, CS.Cart is the best option. Ultimately, if you consider a peer-to-peer platform, choose Sharetribe.
| | | | |
| --- | --- | --- | --- |
| Perks | WordPress | CS.Cart | Sharetribe |
| Selling digital items | ✓ | | |
| Organized sellers of physical goods | | ✓ | |
| Peer-to-peer selling | | | ✓ |
We have advanced expertise in working with the platforms we reviewed. Contact us and get help from our specialists.
FAQs
What are B2B marketplaces?
B2B marketplaces are a type of e-commerce platform that brings B2B sellers and buyers together and allows them to do business in one place online.
As with B2C, companies sell value-added products or services, but in a B2B marketplace, the sellers are manufacturers, brands, suppliers, and wholesalers, and the customers are other businesses. These transactions are processed online by the B2B marketplace platforms operator.
What is an example of a B2B marketplace? 
There are quite a few different B2B marketplaces. For example, some of the best B2B marketplace platforms include Alibaba, Amazon Business, and eWorldTrade. At the same time, Amazon is also one of the best B2C e-commerce marketplace platforms.
What are the 4 types of B2B?
Business buyers can be both commercial and non-commercial companies. We can say that the best marketplace platforms for businesses are divided into 4 key categories: manufacturers, resellers, governments, and institutions.
Subscribe
Enter your email address below to subscribe to our newsletter