Setting up an online marketplace today is probably no more complicated than 40 years ago when people only started making the first electronic commercial transactions. E-commerce is growing in current times thanks to new technologies and innovations. There is no longer a need to have a brick-and-mortar store to sell or buy products. Thousands of enterprises offer a feature-rich online digital marketplace for sellers and buyers. In 2019, retail online sales of goods in the United States amounted to $365.2 billion, and in 2024, according to the forecasts at Statista, it will reach almost $600 billion. 
As large online stores grow in popularity, small-to-medium business owners may find it increasingly difficult to stand out from the crowd. So, what is the marketplace success in the 21st century? How to build your own online marketplace?
Continue reading this article to reveal the secret of success in e-commerce. We'll open up new opportunities for this fast-paced business providing you with world-class online marketplace ideas. Following our workable ecommerce tips and tricks, which we collected over many years of industry experience, you'll create your online marketplace profitable. 
What Is an Online Marketplace?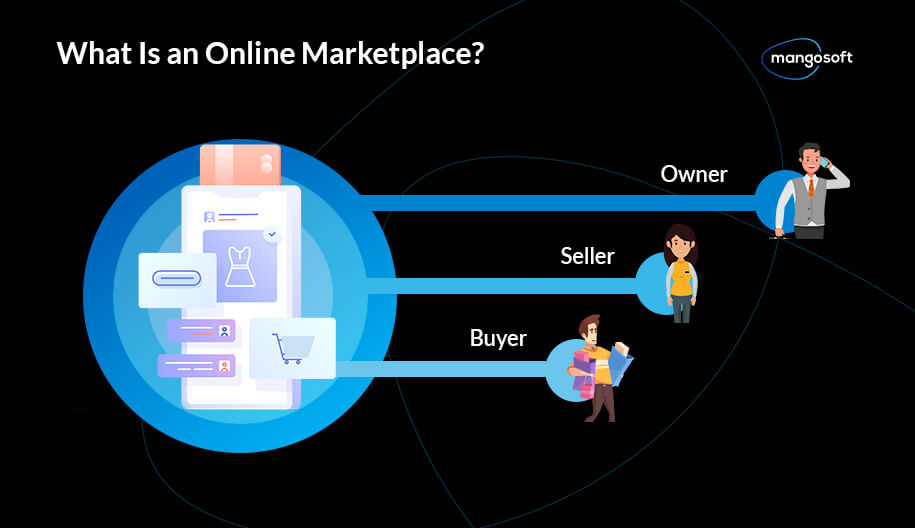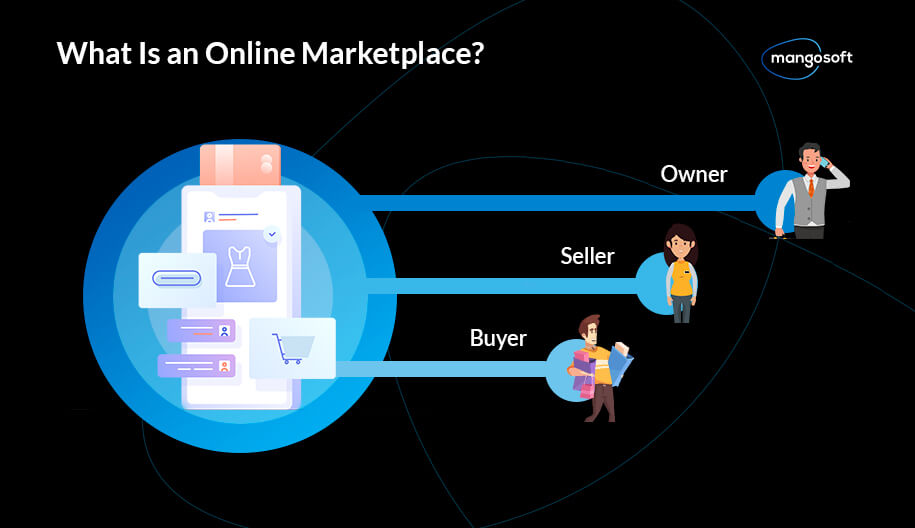 An online marketplace is an e-commerce site or mobile application that simplifies the purchase process for all. Buyers and sellers are connected to enter into transactions, without leaving anywhere. By the way, do you think Amazon was the first e-commerce platform? Back in the 1980s, the Boston Computer Exchange was the first company in the world to dominate the e-commerce market for used computers in the United States. Charles M. Stack created Book Stacks Unlimited, an online bookstore, in 1992. And only after 3 years, Jeff Bezos launched a top world marketplace, Amazon. 
Indeed, Amazon is not the only known marketplace that we can name today. eBay, AliExpress, Alibaba, Etsy, Rakuten are also the online retail giants on everyone's lips. So what is known about online platforms, where we all can go shopping today?
Types of Online Marketplaces
Online marketplaces are categorized according to the business model they are based on:
| | | |
| --- | --- | --- |
| B2C – business to customer | B2B – business to business | C2C – customer to customer |
To easily remember business models, it's enough to know what the letters mean:
C = customer =

users

, clients

B = business = sellers, suppliers
B2C/B2B platforms consist of sellers who work together to share their assets at market prices. Indeed, this is a win-win option for all stakeholders involved: a consumer gets access to various goods globally available, and businesses can reach a broad audience offering different inventories or services over again. Not so long ago, a new category of online marketplaces turned to be sought after – C2C or P2P (peer-to-peer, people-to-people or person-to-person). On these platforms, consumers sell each other a large number of personal items through third-party online platforms such as eBay and Craigslist.
3 Key Characteristics of Online Marketplaces
How do online marketplaces differ from typical webshops? There are 3 key features that define an online marketplace:
A huge number of users.

Anyone can trade through the same site or application without reference to the place. That way, there are hundreds or even thousands of those who can sell products on one platform.

A wide array of choices.

Since there are a large number of sellers, an online marketplace offers a wider range of products than traditional online stores. As a result, this feature attracts more visitors to view the website and purchase in just one go.

The single checkout process.

Buyers do not need to go to other websites to finish their purchases. In online marketplaces, they can buy from several different sellers at once, even if they are not connected to each other.
Why Build Your Own Online Marketplace? – 3 Good Reasons
Get substantial sales revenue.

After seeing successful companies such as Uber, Airbnb, or Fiverr and their revenues, more and more entrepreneurs are eager to create their own marketplaces. This is one of the main reasons why most tend to have these platforms developed today. According to the

analysis by Digital Commerce 360

, in 2019, $2.03 trillion was sold on the world's leading online sites, which accounted for 58% of global web sales in 2019. This means that online marketplaces are extremely popular in the business world. 

Meet the high demand for online marketplaces.

Indeed, there is demand; accordingly, there must be supply. So, your task is to produce a steady supply; connect demanders and suppliers on the single online platform, and facilitate transactions and many other processes (order fulfillment, delivery, etc.) so that they could interact with ease. This way, you will help consumers gain valuable access to goods or services more easily than they did 40 years ago. Only when you highlight all the possible pain points of your potential customers, then you should start an online marketplace that can solve their problems.

Reach a competitive edge in the market.

By creating an online marketplace, you'll give the opportunity to buy/rent or sell goods, premises or services on the Internet at a lower price, with higher quality or in a more convenient way. Each successful online marketplace functions in the way that large retailers cannot do, making them competitive players in the e-commerce industry.
Besides, you'll have one more won position, even if you aren't a manufacturer – you do not even need to have inventories on hand for having an online marketplace. Your task is simply to collect goods or services from different sellers on your website or in the application and deliver them around the world or to a smaller area. The footprint may vary based on your business goals. As a result, you won't have to invest much money in the business. In turn, the return on your investment will provide you with regular income. 
By the way, you can find out more about possible costs in our article – How Much Does an eCommerce Website Cost in 2020? We've mentioned all the key factors that determine the pricing for e-commerce websites. Get familiar with average costs or contact our specialists for more detailed information!
Top 3 Challenges of Starting an Online Marketplace with the Best Solutions
Starting your own online business can be a bit of a challenge, especially when it comes to creating an online marketplace when there are already many successful platforms. So, what challenges may you face? More importantly, how to deal with them and succeed? Let's see!
Challenge #1.
How to Start an Online Marketplace Business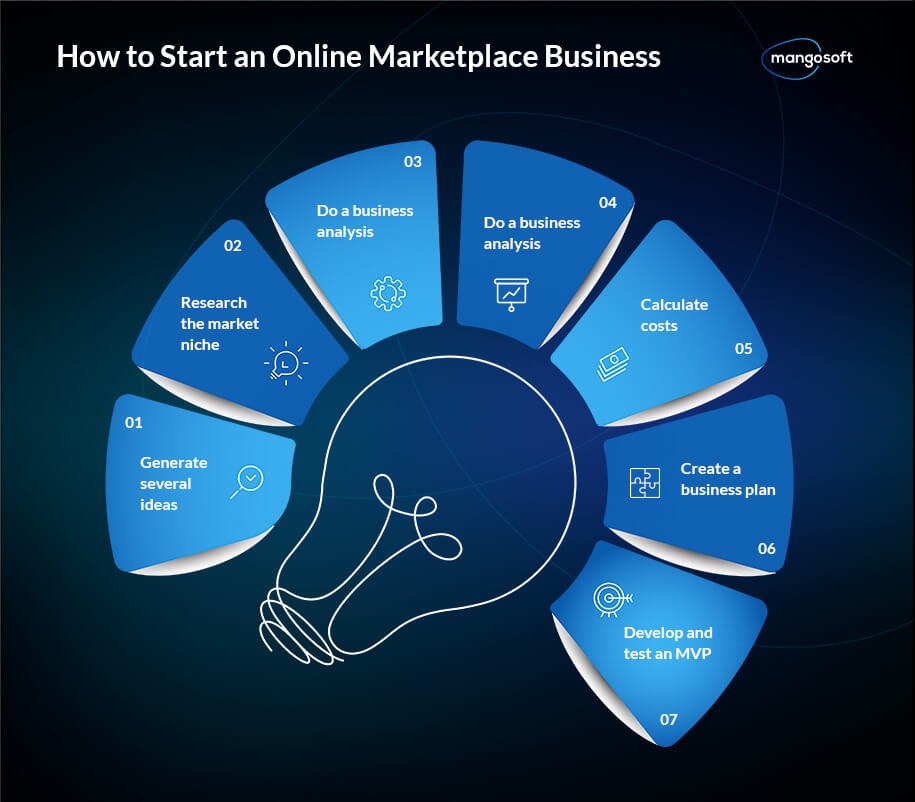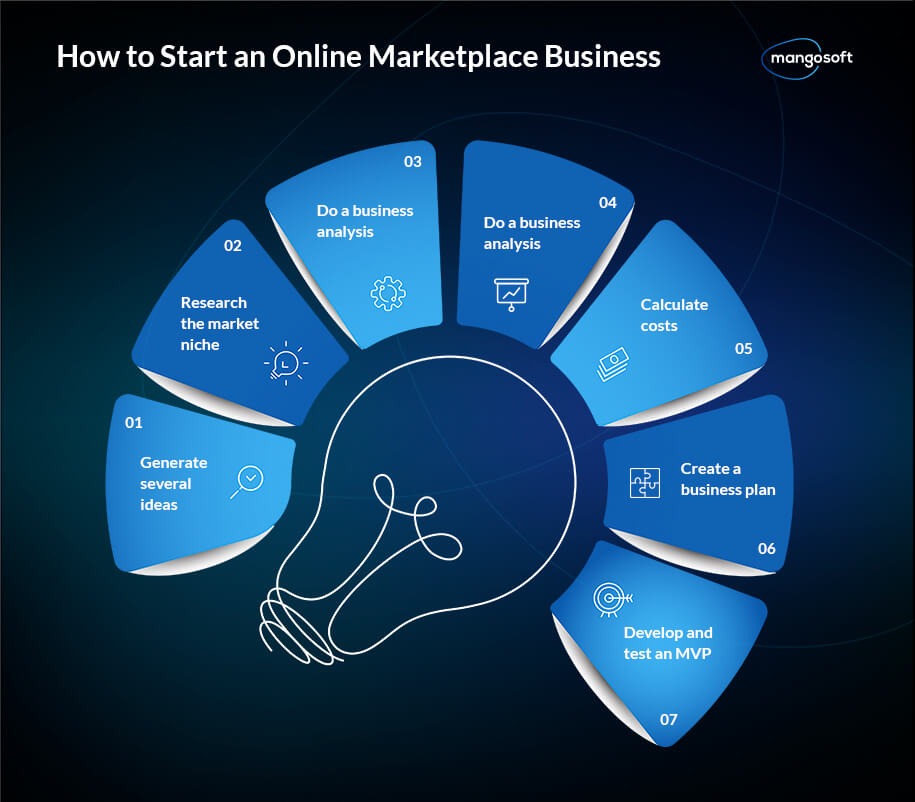 "How to come up with a great idea for an online marketplace?", "How to assess it?", "What is the best business model?" and many other questions you may have if you are planning a new project. If you have never started a business earlier in your life, or if you are an experienced businessman with several online projects under the belt, getting started is always the hardest stage. Those initial obstacles for a new project always seem to block ideas and kill dreams.
"When you start a company, it's more an art than a science because it's totally unknown. Instead of solving high-profile problems, try to solve something that's deeply personal to you. Ideally, if you're an ordinary person and you've just solved your problem, you might have solved the problem for millions of people."
Brian Chesky, CEO of Airbnb, Inc.

Below we offer you several solutions for blocking situations so that you can start a project like a pro and ultimately achieve excellent results.
Solution #1. Work out an
Online Marketplace Business Plan
Among all the projects, those that have an online marketplace business plan prior to the development process and subsequent marketing campaigns are successful. What does it include? A key part of any business plan is a market analysis, a quantitative and qualitative assessment of a selected market niche. Do you need a market analysis? No! Would we highly recommend it? 100%! You should have a full understanding of product-market fit. Keep in mind that the better the fit between a group of people and the planned product, the more successful your business will be.
A new product idea requires a more complex and detailed business analysis than any others. Our experienced specialists always take on new product development (NPD) after having a business analysis on hands.
"If you don't understand the details of your business you are going to fail. My own view is that every company requires a long-term view."
Jeff Bezos, the founder, CEO, and president of Amazon

A well-designed business analysis will help you:
Identify all the business needs and appropriate solutions to any of the related problems. The range of solutions starts from improved process management to software and strategic planning. 

Find dead-end business ideas and avoid unnecessary costs. Don't worry if your idea provides a completely different benefit through a business prism than you initially thought. You may save your money this way!

Calculate returns on investment (

ROI

). It is very important to understand and define at the very beginning of the project if you'll have a positive return on your investment. 
Solution #2. Estimate the Scope of the Project
What may prevent you from starting a new project? An unestimated scope of the project! Often organizations know what they want in terms of the results of a high-level project, but they haven't come to the smallest detail. Thus, the decisive step towards the final results is to determine the scope of the project at a fairly detailed level.
The scope of the project is an integral part of project planning, during which you must define and document a list of specific business goals, results, functions, tasks, deadlines, and, ultimately, costs. In other words, this is what must be achieved and the work that needs to be done to implement the project.
It is important to determine the scope at the beginning of the project life cycle, as this can significantly affect the schedule or cost (or both) of the project in the future.
Solution #3. Prepare an MVP to Validate an Idea
Creating the minimum viable product (MVP) is the best way to collect all the necessary information about your business idea. In the fast-paced world of technology, you cannot afford to spend months working on an idea that has not been validated properly. This is why most successful businesses start with an MVP:
Minimum – basic features;
Viable – able to function;
Product – something that users can test
Think this is a waste of time and money? Keep in mind that MVPs were used by billion-dollar companies. For example, Airbnb has not always been a $20 billion company with a fully functioning website, customer support group of more than 100 specialists, or several mobile applications. This success story started with a simple MVP at the end of 2007 – a simple website even without multiple options such as the selection of dates, locations, or rental rates. You surely know the project deliverable.
As a result, simply by creating basic software to test ideas at the earliest stages, you can avoid an expensive, feature-rich crash. It is better to fail quickly and adapt, than to learn the same lesson, having spent a lot of time and money.
Ecommerce tips from experts:
"Start offering products with high demand and good margins that you can earn on. If you know, the largest online stores began with the sale of specific products. Amazon started with the sale of books, Etsy – with handmade or vintage items."
"To avoid surprises for all stakeholders, both from the client and company sides, it is highly recommended to work with a well-planned change management process or have a well-designed risk management plan."
Mangosoft Team of Project Managers (PMs)



Challenge #2.
How to Make an Online Marketplace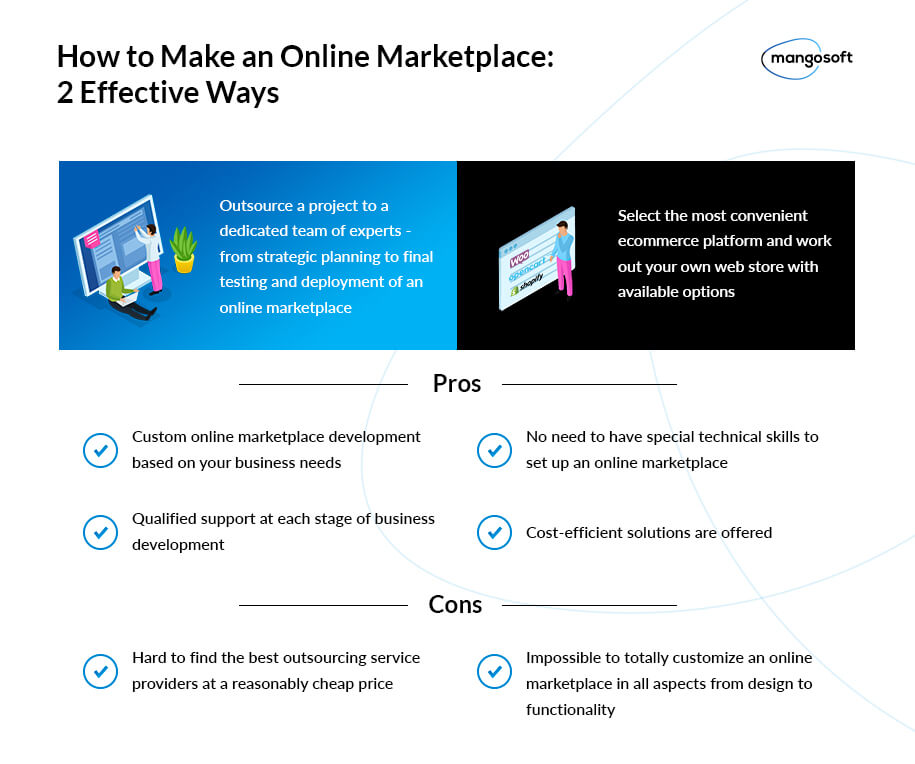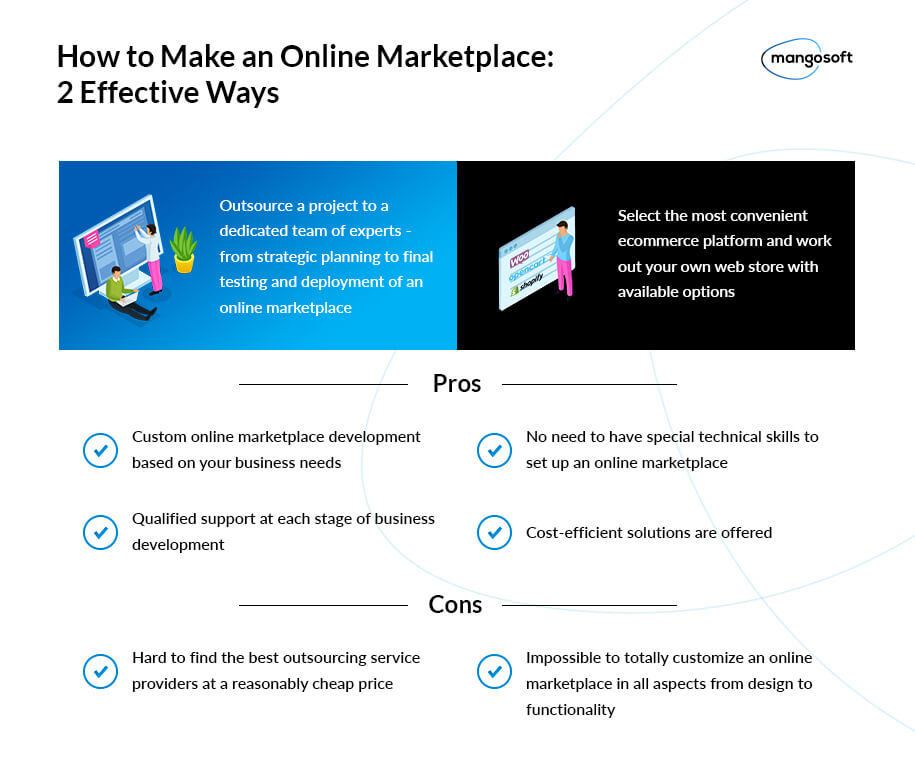 Well, you have a brilliant idea and know that it will pay off, what to do next? This is a common obstacle – how to set up an online marketplace so that it will start working successfully? Here you are 3 solutions to build up a business effectively: 
Solution #1. Outsource Ecommerce Development Services
Outsourcing software development services isn't a new but effective practice, especially if your company's growth depends on technology. Software development outsourcing has been a great success for many companies around the world – Alibaba.com, Google, etc. You may have an internal team of IT professionals, but you will benefit from this engagement model like many others. 
First of all, outsourcing will save your internal costs while reducing the workload within the existing team. For example, outsourcing in Ukraine can cost 70% less than the same work done locally in Europe or North America. You can study average developers' rates by country below to see if outsourcing is reasonable:
Average Outsourcing Development Rates by Country*
Country

Junior

Software

Engineer

(

~ 1 year

)

Middle

Software

Engineer

(

~ 2-3 years

)

Senior

Software

Engineer

(

3+ years

)

The USA

$25

$37

$45

Canada

$22

$31

$40

The UK

$18

$27

$38

Poland

$15

$25

$32

Ukraine

$13

$22

$30
* taken from PayScale, Glassdoor and Indeed
Secondly, by transferring some functions to real professionals, you can focus on the main business activities. Thirdly, outsourcing gives you valuable access to the talent pool. The lack of in-house expertise is one of the key reasons why most companies tend to have an expert team somewhere in the world. In addition, with outsourcing, you do not need to waste time recruiting, hiring, and training employees for projects.
How can you figure out if your company will benefit from outsourcing?
Your company doesn't always have big projects, and there is no need to constantly keep developers on staff;

You do not have web developers and you do not want or cannot hire and manage them;

You want your project to run more efficiently and quickly;

You have very complex tasks that your current team cannot complete;

You want to cut your costs by hiring experts from onshore/offshore locations
Solution #2. Work on a Ready-to-Use Ecommerce Platform
Today, you can't lag behind the revolution in e-commerce due to a variety of platforms – Shopify, Magento, WooCommerce, BigCommerce, PrestaShop, and others. Primarily, the success of your online store will partially depend on an online platform that you use to create and manage it. Get familiar with some e-commerce platforms described in our article "Top 12 E-commerce Platforms in 2019: What to Choose and Why?" in detail. Just choose the most workable tool and create your own online market! It's not always easy, but you can still get an online store with advanced features, product attributes, flexible delivery options, and a wide selection of payment gateways. In other words, you get a complete e-commerce solution. 
How to pick the right one?
Set clear goals for your business and see if they are all achievable on the platform;

Determine the payable type of e-commerce platforms for your business (traditional, open-source, cloud or SaaS);

Consider the costs of creating, maintaining, and updating an e-commerce platform.
As for the possible costs of using the e-commerce platform, you can start with the comparison of tariff plans below or on the official websites and make the best choice for yourself:
Ecommerce Platform Pricing*
Basic
Plus
Advanced
BigCommerce

$29.95 per month

$79.95 per month

$299.95

per month

Shopify

$29 per month

$79 per month

$299 per month

3dcart

$9.50/14.50 per month

$64.50 per month

$114.50 per month
* taken from official websites – BigCommerce, Shopify, 3dcart
Be sure to include the costs of maintenance and support. In addition to adding features and making improvements to your e-commerce site, you may need to change the overall user interface using custom web design. Again, this boils down to changes in consumer trends and behavior. Indeed, this can be a costly affair.
Ecommerce tip from experts: "The best e-commerce platform is one that successfully meets all your business requirements that you set; not one that is popular."
Mangosoft Team of Business Analysts (BAs)



Challenge #3.
How to Market a Marketplace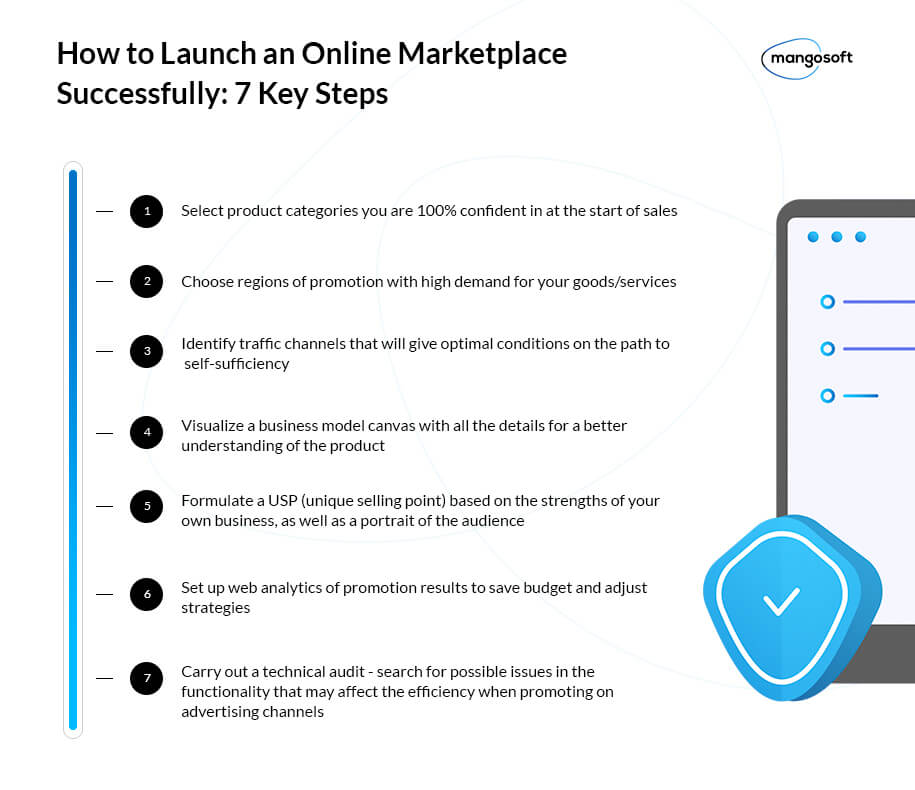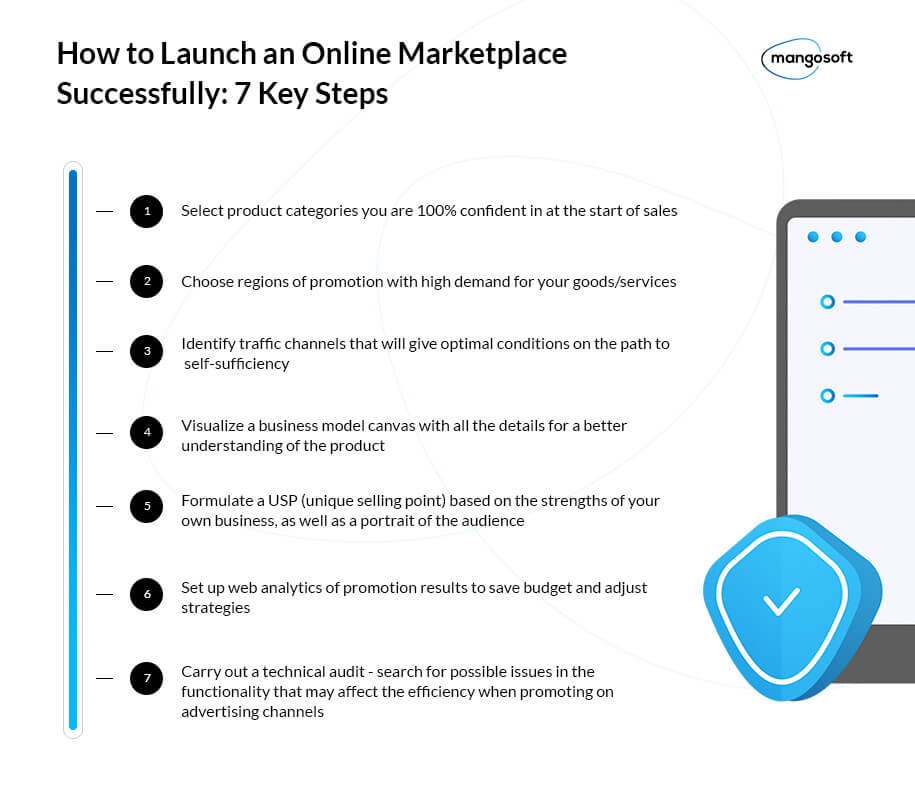 With the launch day approaching, have a feeling of nervous excitement? To come up with a good idea and develop a website or application is only half the battle. For many business owners, the fact that the online store itself does not give a sale becomes a discovery. Even if you spent a large budget on creating a store, confused over a beautiful design – this does not guarantee sales in the first month after the start.
"The last 10% it takes to launch something takes as much energy as the first 90%."
Rob Kalin, one of the founders of Etsy

So, one more challenge you may face is how to start a marketplace website in a fairly competitive world. Remember that you, as the owner of the trading platform, must simultaneously attract two different types of users: buyers and sellers. Let's see what you can do!
Solution #1. Create Favorable Terms & Conditions of Use 
Suppose you have already developed an online marketplace. You spent a lot of time analyzing a business model, target audience, niche, etc. Your product is not the only option available. How to stand out from the crowd? So, it is better to resonate with both buyers and sellers simultaneously. You can act differently than they expect by creating uniquely favorable conditions. 
"If you do build a great experience, customers tell each other about that. Word of mouth is very powerful.
Jeff Bezos, founder, CEO, and president of Amazon

What are most entrepreneurs doing now? They simply facilitate transactions between suppliers and consumers, without taking responsibility for the goods or services offered on the platforms. They force sellers to sell or buyers to buy exclusively from them. They set their own terms of use. We recommend doing the exact opposite. Focus on your users to solve the problems of sellers and buyers as favorable as possible for both.
Solution #2. Build a Brand in Online/Offline Communities 
Contrary to the opinion of many entrepreneurs, a product is not a brand. Many companies are just starting to release products ignoring brand advertising. Brands should evoke memories and emotions associated with many aspects – quality, value proposition, customer service, support, etc. 
"eBay's business is based on enabling someone to do business with another person, and to do that, they first have to develop some measure of trust, either in the other person or the system." 
Pierre Omidyar, the founder of eBay

There is the golden rule – when consumers trust a brand, it makes them loyal, and when they are loyal, they buy more. Connect with your target audience online (social media groups, forums) and offline (events, meetings). In online environments, you can use extra tools such as SEO, PPC advertising, digital marketing to target people who search for what you offer. You can even be creative and send small gifts to people who are still offline. The ultimate goal of each marketing strategy is to get users. 
Solution #3. Find Channels of Promotion Effective for Your Business
Today there are a million channels to promote your product or service. It is not always clear whether this plays a direct role in marketplace success. Nevertheless, you should find the most effective channels for the promotion that give the desired results immediately at the start of sales. It can be quite expensive to cover all possible promotion methods immediately after launching the marketplace. For the first sales, 2-3 correctly selected channels are suitable. Maybe you already have a good presence on several social networks. Then apply for Social Media Marketing (SMM). Besides, you can use Search Engine Optimization (SEO) methods along with Content Marketing, or Email Marketing. 
Point out all the strengths of your business in various channels and plan a budget accordingly. Keep in mind that you need more labor and other resources for any active marketing campaign. If you do not have them, you can address a digital marketing agency or any other third party that will help you out.
If you are new to the development of online business and want to learn more about what type of software you need, contact our specialists. At Mangosoft, we help expand the business opportunities of any online marketplace. Get a free business analysis from us to be successful in today's environment!
Conclusion
When it comes to setting up marketplaces in the 21st, all means are good, especially the ones presented in this comprehensive guide. This is proven by many years of experience in the e-commerce industry. You not only help consumers gain access to goods or services in your marketplace, but you also need to offer:
100% secure and reliable platform;

User-friendly interfaces;

Rich and personalized services;

Many solid guarantees and possibilities;

Advanced features and functions, etc.
There are other aspects of your online business that will require certain skills and knowledge. This guide offers you all the details about successful marketplace development — the types, specifications, tips and tricks of well-known companies such as Amazon, eBay, or Etsy. Isn't this the best way to start your own business based on key player practices? Of course, you should have original ideas that can influence the shopping experience these days, as these companies did before.
Looking forward to further cooperation with Mangosoft? Do not delay the chance to become competitive with the help of our dedicated team of experts in the field of e-commerce or any other field. You can contact us to share the details of your project if any. Be sure of the confidentiality of all data on Mangosoft!
Subscribe
Enter your email address below to subscribe to our newsletter