There is no universal answer to the question about the cost to develop e-commerce websites. Indeed, the costs depend on the development service provider you choose and the needs of your business. "Which platform are you going to develop a website on?", "Is it a custom solution?", "What technologies are used?" and many other points that may affect the final price for e-commerce websites. In addition, please note that you must continue to invest in the functionality of your online store after the initial development has been completed.
To estimate the cost of your project, study the core aspects that may affect pricing below in this article. Consider the price breakdown we offer as a team with 7+ years of experience in e-commerce web development.
Basic Types of E-commerce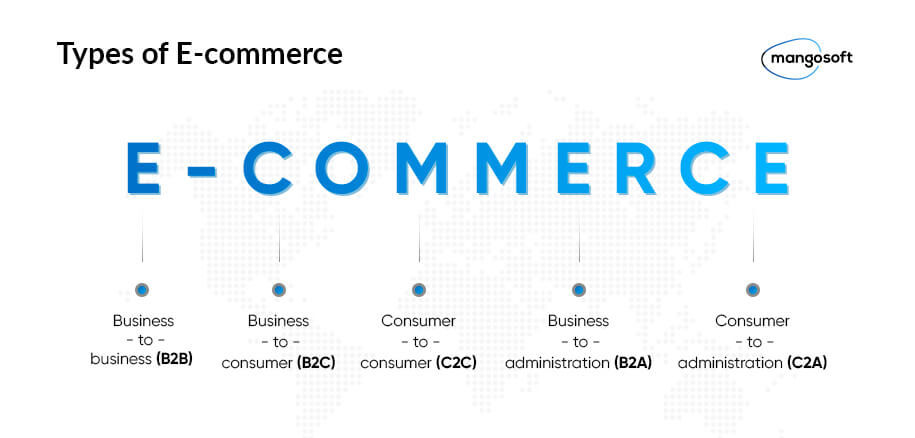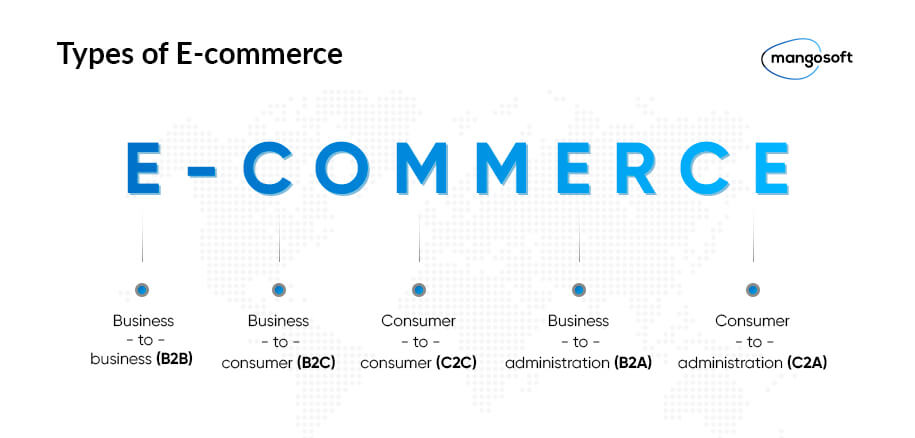 Most of us are used to buying products online, but few are aware that there are different types of working relationships on e-commerce platforms. Here are 6 key kinds of websites you may consider for your business:
Business-to-business (B2B).

This type of e-commerce relates to the financial operations carried out between businesses. As a rule, such a category describes the cooperation between a manufacturer and a merchant who promotes the product. 
Business-to-consumer (B2C).

This platform handles cooperation between a

business

and a client. This type of electronic commerce lets you shop online at profitable prices and see other persons' reviews.
Consumer-to-consumer (C2C).

This is aimed at the financial operations between individuals on the platform. This type of e-commerce implies that an individual applies to some business for ordering goods or services.
Consumer-to-business (C2B).

This relates to marketing goods or services between an individual and business. Such e-commerce takes place when an individual submits some product to business.
Business-to-administration (B2A).

This allows users to make all online operations between businesses and public administration centers. This electronic commerce lets companies provide administration software and public access to services for entitling, scheduling, and licensing.
Consumer-to-administration (C2A).

This covers all financial operations between a consumer and the government. Such a model involves health (arranging a meeting through the Internet), public security (the spread of information), education (remote training), and other software.
Key Factors That Determine the
Pricing for E-commerce Websites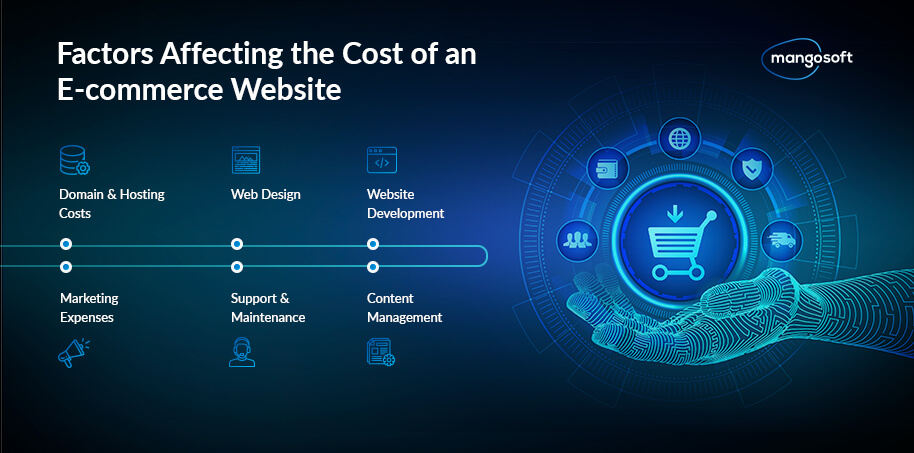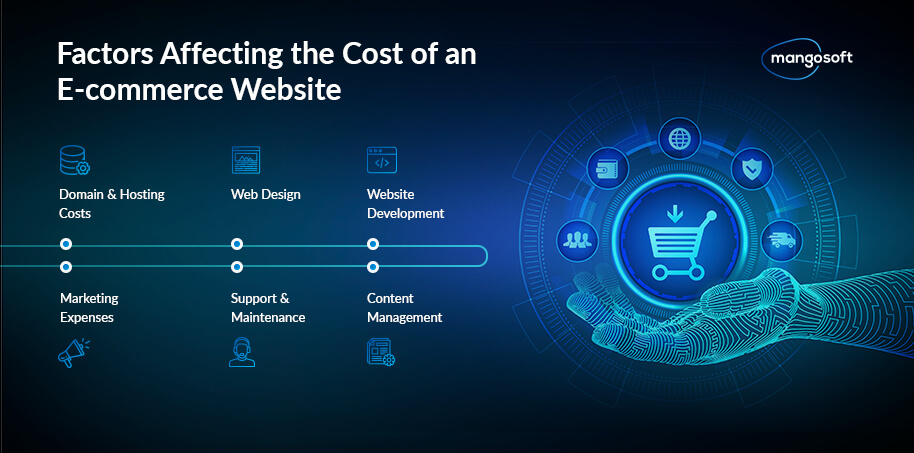 On average, e-commerce website costs start from $20.000 for small businesses and up to $250.000 and more for large enterprises. The price will depend on the general business objectives, type of site and its functionality, etc.
Here are the essential website deliverables and pricing:
Customization of CMS platform for your web store can charge from $1.000 to $10.000. At Mangosoft we use both available and private platforms. Needless to mention that many major vendors rely on us since our platforms are exceptional as far as their functioning, dependability, and safety are concerned. Our specialty is the Magento platform since we regard it as a top solution for e-commerce projects.

The price of registering a domain name is between $10-50 per year. The price difference is caused by which registrar you use and which domain you want to register – .com or .net? Different registrars offer different packages of services, so you should look for a suitable place.

Hosting

charges are from $300 to $600 per year. Yet, your web hosting demands will be contingent on the following variables: chosen CMS, an overall number of goods and webpages, and expected traffic.

The prices of projecting and building a web store, preparation of details about products, installation of a data bank, and the

development

of tailor-made

design

vary from $10.000 to $100.000. The final cost depends on whether you prefer making a small-scale online shop or an enterprise store with a huge number of goods. Consider extra expenses on maintenance if you have an enterprise-level website.

The cost for the promotion of an online store starts from $500 per month. It is contingent on how often you will launch advertising campaigns; and management of social networking sites.
Average Cost for an E-commerce Website
| | | | |
| --- | --- | --- | --- |
| | Simple websites for small businesses | Mid-level websites for medium-sized businesses | Advanced websites for enterprises |
| Domain & Hosting | $300 | $400 | $600 |
| UI/UX Design | $5.000 | $15.000 | $25.000 |
| Website Development | $10.000 | $60.000 | $150.000 |
| Site Promotion | $5.000 | $10.000 | $25.000 |
| Average e-commerce website cost | $20.000+ | $85.000+ | $200.000+ |
Since these sums are dynamic, we will examine the primary determinants of the website cost:
The costs differ depending on a development service provider you choose. It can be part-time, full-time, freelancing or outsourcing teams of developers.

The sum you pay to a provider varies contingent on the expertise, place, and others.

Depending on the deadline, the sum can differ as well. Accordingly, the urgency is more expensive.

Based on your marketing plan, the expenses for site promotion may vary as well.
Planning to develop a web store and hesitating what company to address? Mangosoft's team is at your service.
Our company has comprehensive expertise in custom e-commerce website building. For example, we were involved in the development of MBR Skin, an online e-commerce site, for a skincare product provider. We have applied all our knowledge and skills so that conversions were boosted by 40 %, whereas the sales grew by 80 %.
E-commerce Website Development: Possible Solutions


There is a variety of e-commerce tools available today to help business owners develop and manage their online stores efficiently. Among the most popular ways to launch a web shop is using website-building platforms. In our blog, there is a separate article devoted to this topic – Top 12 E-commerce Platforms: What to Choose and Why? You can apply to any of this and get money's worth if all aspects mentioned above are covered during the development process.
Here are some questions to answer yourself when choosing an e-commerce platform:
Does the platform have all the necessary packages of features to meet your e-commerce needs?

Are marketing and business management tools built into the platform?

Is it easy to create an original web design of your online store on the platform?

Can you customize functionality of the platform?

☑

☑

☑

☑

☐

☐

☐

☐
A good website builder should fall into all of these categories, especially with affordable pricing plans and flexible design options. Create your e-commerce business using a ready-made platform with common features or get a custom solution from our experts.
How Much to Charge for Ecommerce Websites
: WooCommerce Vs. Shopify
In this article, we will now examine the pricing for common e-commerce site builders – WooCommerce and Shopify.
Domain & Hosting Costs
WooCommerce. This is accessible as chargeless software. Yet, you will require hosting to set it up, as well as a domain and SSL protocol. The hosting price for newcomers is $8 per month. In its turn, domain requires $15 and SSL begins with $70 per year. Fortunately, the Bluehost hosting provider gave WordPress newbies a reduction in the hosting price. Thus, you may start at $2.75 for one month. Once your company begins to expand, you will ultimately have to update a plan to process more traffic. You may move to WP Engine that requires from $34 to $289 for a month.
Shopify. This is a great solution that allows not to install the software. On this SaaS (Software as a Service) platform, you will not have to spend on hosting at all. Yet, the use of Shopify implies domain costs. Thus, you can start with this SaaS platform at $30 per month for the Basic plan, while the Advanced plan is worth $300.
Payment Processing Charges
Some newcomers overlook the fees for handling payment. We will now review the ways how WooCommerce and Shopify conduct transactions.
WooCommerce. Since this platform is open-source, it provides the use of several financial services (PayPal, Stripe). Other services are also presented as the add-ons. The significant advantage of this software is that you will only have to pay the fees to the service you selected.
Let's review the pricing of common payment gateways:
PayPal charges 3 % and $0.3 for the transaction;

Stripe requires 3 % and $0.3 for one operation;

Authorize.net takes 3%, $0.3 for one transaction, and costs $25 per month.
Shopify. It provides the incorporated payment processor termed as Shopify Payments. The service functions within 13 regions. And depending on your country, the payment conditions can vary. Once you do not currently dwell in any of these countries, you will have to give 2 % of additional expenses to this Saas platform for every financial operation you conduct.
Let's examine the fees for handling the payments:
Shopify Payments charges 3 % and $0.3 for every transaction;

Other payment gateways require its transaction fees and 2 more percent of fees go to Shopify for every operation. 
E-commerce Website Design Cost
What is the sum of money necessary for designing an e-commerce site on these platforms? Let's examine.
WooCommerce. It provides a versatile interface and design options as it is developed on WordPress. Most of the themes are chargeless or have a low price (the cheapest theme costs $30). The tailor-made themes may be high-priced contingent on the features you require. For instance, the price for an enterprise theme including additional software add-ons may vary from $10.000 to $30.000.
Shopify. It provides prepared page templates and embedded instruments for customizing the design. Also, this website builder has 10 available and 65 premium themes, the minimal price for which is $160. Contingent on the programmer you employ, a tailor-made design for this platform may range from $5.000 to $30.000.
Costs to Use Add-ons & Extensions
For successful operation, the platform must be expanded with a wide range of settings. So what is offered on each of the mentioned platforms?
WooCommerce. This platform provides many chargeless and premium plugins accessible. Besides, you have access to more than 55.000 plugins at no cost since WooCommerce works on WordPress. The costs for premium add-ons range from $20 to $300 contingent on the features you choose. Yet, if you wish to get a customized feature, you may hire a developer that will charge from $500 to $10.000. 
The price of WooCommerce add-ons: standard ones cost up to $300, while premium ones – from $500 to $10.000.
Shopify. This SaaS solution is closely integrated and offers the highest protection and steadiness. Yet, the platform provides application programming interfaces (API) for programmers to combine their services with Shopify. You can get those plugins in the form of third-party applications on the App Store. You can get the better half of the premium apps by getting a monthly subscription. This e-commerce platform enables you to add your applications built right for your online shop. You must store and launch them elsewhere, though you may create API keys to run all the access rights. 
The price of Shopify add-ons: You can use the subscription applications at no cost, whereas tailor-made software charges $5.000.
An Average
Cost of an E-commerce Website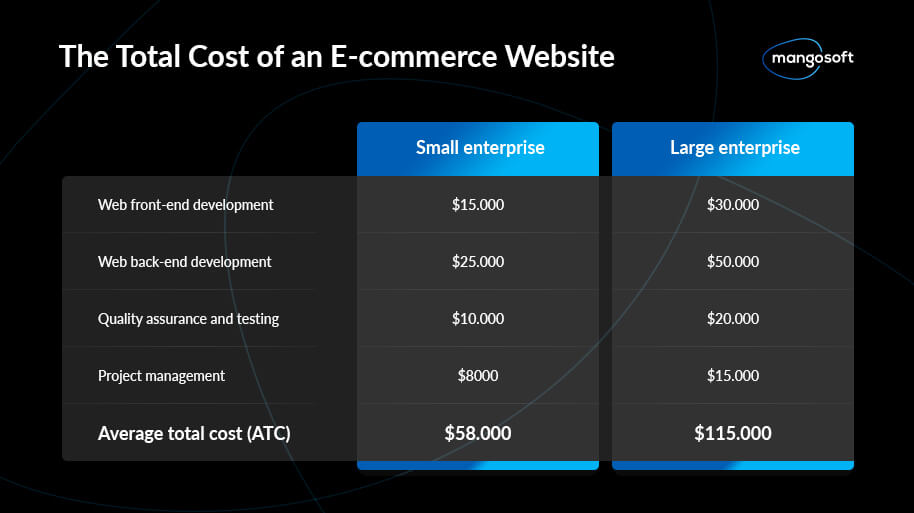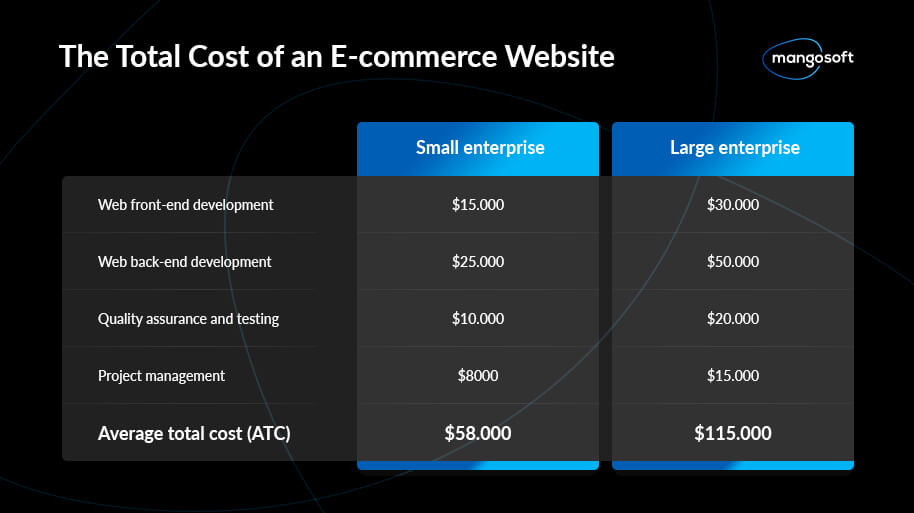 For small enterprise website development, you will require:
Web designer

QA engineer

Front-end developer

Back-end developer

Project manager (PM)
For large enterprise website development you will require:
Web designer

2 Front-end developers

3 Back-end developers

DevOps specialist

QA engineer

Project manager (PM)
Here are the offshore e-commerce site-building rates, where the former price is for the junior developer, and the latter price is for the senior one.
| | |
| --- | --- |
| Region | Rates per hour |
| Latin America | $25 – $50 |
| Eastern Europe | $25 – $50 |
| Asia | $20 – $40 |
| Africa | $20 – $40 |
Consider Shopify for building a custom site to show, sell, and deliver your product. By subscribing for a month, you may create a dynamic webshop that is manageable to work with. Many individuals use this platform to get an income through the Internet. You require a website developer for the following reasons:
Make a tailor-made user interface of your webshop;

Build integrations;

Modify the code;

Guarantee that your online shop is working correctly;

Improve your webshop performance.
The cost for e-commerce website building will depend on the company you select. As a rule, more expensive one will bring better results, whereas applying to an offshore corporation for economic reasons contributes to strains or late-night calls. Thus, you must ensure the provider you select is trustworthy and available once you have some questions.
We provide free business analysis individually for each project. Contact us to find out e-commerce setup costs on any platform.
Free business analysis
Since we have examined all the expenditure areas, let's see what will be the total cost of setting up an e-commerce website. Here are the approximate expenses.
Shopify charges from $1.000 to $10.000. Yet, the value will rise as you sell more or use a separate payment gateway.

WooCommerce requires from $500 to $10.000 depending on the plan you choose (Starter, Custom, Enterprise). The cost will increase when you get a tailor-made design or premium add-ons.
The price for a WordPress or WooCommerce website ranges from $500 to $3.000 for a start-up. This site builder provides the best quality-price ratio since it is powerful, versatile, and user-friendly. Here are the most significant advantages of the platform:
You should not spend on extra transaction costs;

WooCommerce does not limit the number of

goods

you are looking to sell;

The website builder has excellent design opportunities to boost your conversion rates.
When you choose BigCommerce with WordPress, the first platform suits for maintaining your online shop, while the latter one – for running content marketing. 
Finally, Shopify is an affordable variant for building a site, though you have to use its payment service to receive money on your e-commerce site.
Top 5 Mistakes to Escape While Creating an Online Store
Regardless of the type of e-commerce you choose, escape these top 5 mistakes while building a web store:
Mistake #1. Economize 
Even though the low costs seem attractive, the quality of a cheap product usually suffers. Thus, choose the platform which can be a lasting item investment. Saving on payment systems and their integrations, you risk not to draw potential clients without offering payment options (via card, e-wallet, etc.)
Mistake#2. A single desktop version
Make your website adapted for many platforms. The majority of users attend sites using different devices. Consider how you may offer consistent interaction on all gadgets.
Mistake #3. Lack of protection
General tech errors might be found out while ensuring online shop safety. Since SSL protocol is obligatory for Internet payments, you must set it up where the confidential data is inserted. Thus, you have more chances to draw customers willing to purchase at your webshop.
Mistake #4. Slowly opening site
Webpage speed is essential for conversion. Thus, you must check landings for speed enhancements. Most of the humans using mobile devices will leave a website if it demands over 3 seconds to open.
Mistake #5. Inconsistency of external and internal technical optimization
This will entail additional working hours. All requirements must be obtained from marketing partners, who must pass this on to potential developers.
Wrapping Up
So, what do we have finally? Successful e-commerce website development in 2020 requires a thorough business or SWOT analysis, product definition, and thorough budget planning. The costs of making an e-commerce website range from $58.000 to $115.000 depending on the scope of work needed for the project. The timeframe required to get a tailor-made project is from 3 to 5 months, or even more if we speak about large projects. The costs we mentioned are approximate, you will need them to have an idea of the approximate price range. 
However, you can get the exact price for the project completion based on your particular requirements and preferences. Contact us to get a free project estimate from our expert business analysts. You are also welcome to Custom Ecommerce Software Development provided by Mangosoft at a high level.
Subscribe
Enter your email address below to subscribe to our newsletter